HYPE for Yammer
Leverage your Yammer community with HYPE's integration for idea campaigns.
Yammer is used as an enterprise social collaboration platform where employees post updates about their skills and interests, discuss challenges and opportunities, and share information on best practices, competitors, and recent projects.
HYPE for Yammer offers the opportunity to tap into this valuable data source: run campaigns and harvest ideas directly in Yammer and import them in your HYPE system for management and implementation with a single click. At the same time, the module promotes your innovation program as the progress of ideas in HYPE gets published in the Yammer Activity Stream.
HYPE for Yammer includes:
One-click import of comments and answers from Yammer, including attachments, pictures, and "likes"
Simple and clear import management via our Yammer Explorer: afterwards HYPE search extends to your Yam­mer ideas just like any other idea in HYPE
Up-to-date figures via the Yammer KPI Report, giving you real-time data for selected and implemented Yam­mer ideas per campaign Secure data exchange via HTTPS and Yammer token
Automatic import for Yammer ideas to their respective HYPE campaigns
Updates in Yammer Activity Stream about the progress of the new ideas
Predefined automatic actions for imported Yammer ideas in HYPE
Automatic generation of user accounts for Yammer users not already listed in HYPE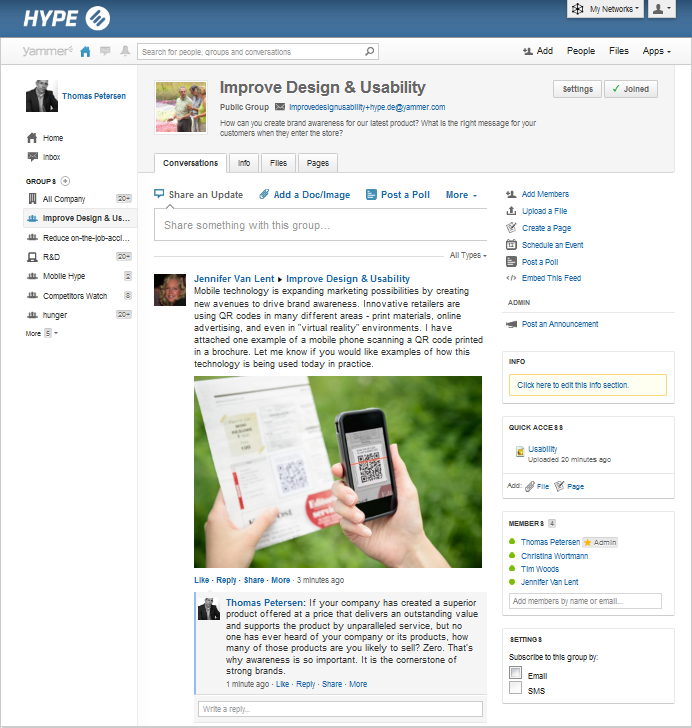 Interested in our Products?