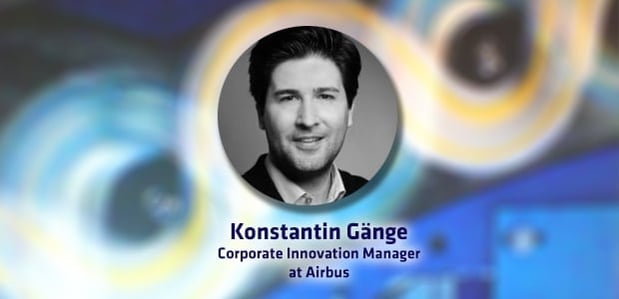 At the HYPE Innovation Managers Forum in Bonn, 17th May 2017, Konstantin Gänge - Corporate Innovation Manager at Airbus - will present on his experience of building an active innovation community. We spoke to Konstantin to find out about his talk.


Why is an innovation community so important to your program?
The platform is ultimately just a tool. To really generate meaningful engagement and to see change happen, you need a strong community ready to dedicate the time and energy into your program. Even if the innovation team by itself is quite large, as it is at Airbus, it is never going to be enough to activate change across the whole organization.
The limited time and resources allocated to an innovation initiative is a common challenge to a lot of companies, and this is why it is crucial to build an extended network that is going to play an advocate role. Great innovations come from cross functional collaboration, and this is the idea behind building an innovation community across those boarders.
The community should be seen as an extension of the innovation team, which means for the people involved to take responsibility also on the innovation platform by being in charge of Idea Channels and leaders or moderators for Idea Campaigns.

To reach that goal, you need to think about ways to involve your network over the long term. We developed a series of initiatives, which we'll explain in Bonn, but just for example:
A face to face event over two days to present achievements, reward people and then work actively on specific items for the network,
Local events to raise awareness on the different resources locally available,
Webinars to present results, success stories, innovation platform details,
And training sessions. The people are being trained to develop their innovation competencies. We have six "Primers" – innovation training sessions – which everybody in the community can attend. They are on key topics like: Design Thinking, Systems Thinking, Agile Methodologies, Business Model Canvas, The Simple Business Case, Pitching & Story Telling for Ideas.


Given the scale of the Airbus program, why did you decide to focus on this particular aspect for the talk?
It's really a critical element of a successful innovation program, and it is also something that you have to work on continuously. You can't build an active network and then think your job is done. This is a challenge we have met and are still meeting today. We still have to take care of this network on a frequent basis.
But the fundamental point is that a day is only 24 hours long, and as an Innovation Manager you only have a limited amount of time to do everything you have to. The stronger and more active your community is, the better you will be able to involve the entire company in innovation, no matter where people are in the structure and geographically located. The network is one of the most essential, and also most exciting, aspects to a healthy innovation program.


Why did you accept to be a speaker at the Bonn Forum and what are the three key benefits of attending?
As an Innovation Manager, it's a great opportunity for us to expose our program and get direct feedback from the audience, which is made up of other innovation professionals. That is very useful and inspiring for us.
Learning is one of the key benefits you get by attending this forum. I have never seen something similar at that scale. It is one of the best events of the year, where we can really exchange at a detailed level with individuals doing the same kind of work. You get to learn best practices from other companies in different industries, from different backgrounds and of different sizes.
Participants are willing to share and that creates a great opportunity to network and be part of an innovation practitioner's community. I meet some of them every year, we became friends and I appreciate having the opportunity to see them again, to learn and share more about what they are doing.
Last but not least, it's a fun event in a great location, ideal for facilitating open discussions. The social parts are also an important part of this annual gathering – with all of that, it is quite unique!