If you're an innovation manager, there's a good chance you're part of, what we like to call, the "lone wolf" pack. You don't have many peers to turn to for advice and collaboration, and you're often sticking your neck out there, doing something new and at times uncomfortable for your company. We know how important it is for innovation managers to find others in the wolf pack, so they don't feel like they're the only ones out there fighting the good (innovation) fight. And that's why we host a plethora of Regional Forums year-round.
One of the perks of being a HYPE client is that you can attend one of our Regional Forums. These events are dedicated to our client community, offering them the space and the time to share their experiences with other innovation managers. We stress the feeling of community, holding the forums in a friendly and cozy environment, and capping the number of attendees at 30 people to allow for quality discussions among attendees. That way, everyone can participate, ask questions, and find answers.
As long-term partners with our clients, we consider it our duty and pleasure to offer these experiences so that our clients can find support within our community.
We ushered in summer with two Regional Forums, one in Eindhoven in the Netherlands, and the other in London. First, we want to thank our hosts and attendees for making these forums so impactful and memorable. For those of you unable to make it to either forum, here's a quick recap of what you missed:
10 best practices quotes from the forums' speakers
HERE Technologies – Eindhoven, Netherlands
On June 7th, 23 people gathered at HERE Technologies, located in Eindhoven, a city bursting with energy in the southern part of the Netherlands. The HERE Innovation Team's office, located on the 12th floor of their building, offered a spectacular, 360-degree view of the city. It was the perfect setting to inspire productive and exciting conversations between participants.
As for the presentations and roundtables, they covered specific topics that were relatable for every participant. For instance, Sarah Mason, Innovation Orchestrator at HERE Technologies, presented on how the company successfully built its innovation program, growing fast with an efficient team of innovation enablers. Sarah shared how it could also be challenging at times to find sponsors for idea campaigns.
Roel de Vries, a consultant in HYPE's Enterprise Innovation Consulting team, talked about Open Innovation. He delved into the opportunities that Open Innovation brings and shared the essential points to consider to run a successful program.
Rick van der Werf, Innovation Program Manager at VolkerWessels, addressed the sensitive topic of how to meet your stakeholders' expectations and keep them engaged.
Fiona van den Brink, Manager Business Innovation Processes at AkzoNobel, explained the importance of execution in an innovation process. Having great ideas is not enough; their implementation requires a well-defined process of its own to make sure the ideas are valuable for the company.
Focusing on the possibility to have employees and clients collaborating with the best partners, Witteveen+Bos' innovation program aims at accelerating talents and supercharge entrepreneurship. Arjen van Nieuwenhuijzen presented his lessons learned from the campaigns they have run until now.
During our lunch break, HERE Technologies also showcased eight stations for attendees to discover the company's latest innovations, several of which came directly from HERE's innovation program. Participants really enjoyed learning about their innovations.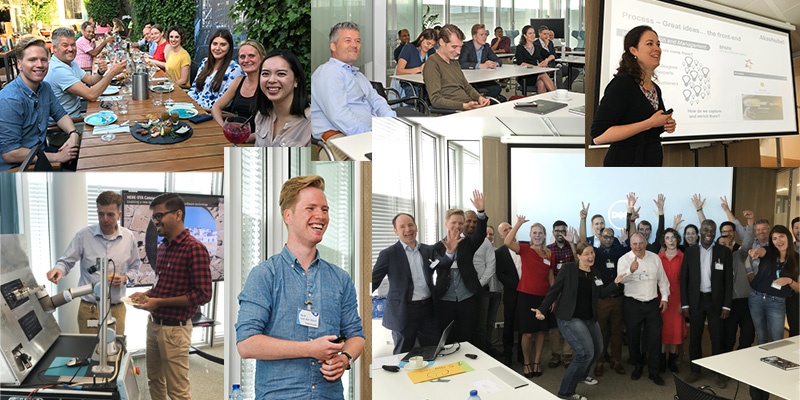 To see all the pictures from this event, visit our album on Flickr: HYPE Regional Forum – HERE 2018.
Fujitsu - London
Just a few weeks after the HERE forum, Fujitsu hosted its third HYPE Regional Forum at its recently launched Digital Transformation Center, which offered the perfect setting for a super interactive event. The room—newly equipped with massive screens and cutting-edge technologies with tools specifically designed to offer an ideal environment for co-creation—enchanted the participants.
The number of participants at our Fujitsu Forum increases each year. This year, we hosted 27 people. Presentations were diverse, and each speaker did a fabulous job. Here's a quick recap of their presentations:
Joachim Box, Fujitsu EMEIA's head of co-creation and Digital Transformation Center Program, focused on Co-Creation at Fujitsu. He shared his insights on how to work with external partners to answer clients' challenges, as well as how to innovate by doing Open Innovation. If you want to know more about it, check out this in-depth case-study explaining how Fujitsu successfully built, and now runs, its innovation program.
We have to give Saint-Gobain market development manager Mark Famy's props for his presentation title: Corporate Gorilla vs. Corporate Guerrilla. He spoke about how to change your company strategy from focusing on competition to delighting customers, and, consequently, how to build the team and implement the tools to achieve that goal.
Tarald Trønnes, internal innovation director at Telenor, shared his roller coaster ride-like experience he had innovating and implementing the company's incubator program, Ignite. He showed the different steps of the program, the challenges they faced, and the excellent results they obtained.
Baxi general manager David Willetts concluded the day on an important topic for all innovation managers: changing the culture of your company. This is probably the hardest part but also the most crucial if you want to run a sustainable program, and David presented the valuable lessons he learned.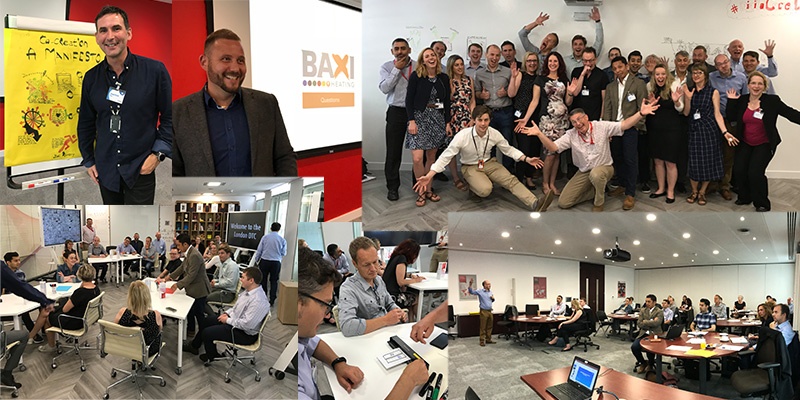 To see all the pictures from this event, visit our album on Flickr: HYPE Regional Forum – Fujitsu 2018.
Over the past few years, we've built a strong partnership with Joachim Box, along with the rest of his innovation team at Fujitsu. They are always happy to host our UK Forum, as well as take part in our other events.
Building an engaged and supportive community of clients is a top priority as this is also an essential ingredient for their success as innovation managers. We're delighted to see that the events are valuable for them. The fact that we regularly receive requests from our clients to host or speak at our forums is proof of their efficiency and value. For example, before the Fujitsu forum in London was even over, the Fujitsu innovation team offered to host another Regional Forum at their brand new Digital Transformation Center in Munich, Germany. (More details coming soon!)
We are also proud to announce that Stan Heuvink from HERE Technologies will be one of the speakers at our first annual Forum in Boulder, Colorado.
Want to join one of our upcoming forums? Check out our events page and register directly online. We hope to see soon at one of them soon!