ATIZO 360° is one of the Europe's leading providers of Crowdsourcing and Open Innovation. With a network of thousands of solvers, they help companies to test ideas, seek solutions, and get rapid feedback on business challenges.
Recently, ATIZO 360° relaunched their crowdsourcing platform atizo.com, migrating to HYPE Innovation technology. We spoke with the ATIZO 360° team, to understand how crowdsourcing communities work, and why they switched their technology to HYPE.
So, what does ATIZO 360° offer?
We are a management consulting and services company who supports companies in the innovation game, and especially in the domain of Open Innovation. We support, coach and accompany our clients in finding the right strategic approach for the solution they are seeking, we share fitting best practices and work hand in hand to deliver the best results.
Two of the innovation aspects we provide are open innovation communities and challenges with external crowds. With atizo.com we grant access to Europe's leading Open Innovation community with over 25,000 users. We enable companies in creating feasible questions to approach the community and we also moderate and facilitate the brainstorming phase. Thus, it is not "only" a tool or a community that we provide, but also all relevant knowledge around community building and best practice processes in terms of Open Innovation.
Besides the existing and constantly growing atizo.com community, we also custom-build communities for our various customers. Open Innovation is a seminal method and tool that allows the involvement of all stakeholder groups, especially clients and customers throughout the innovation process.
After the challenge is run, we'll take the best ideas and run a workshop with a selection of the idea authors and the client. We bring those people together physically for a workshop to build upon the ideas as a group, and develop these into concrete solutions.
Can companies run private challenges with discrete audiences?
Yes. You can launch a challenge to a large community such as the one on atizo.com, and allow anyone to sign-in and post ideas, or you can run a private challenge and invite a specific group of people to participate. For the private community, we often recruit specific personas and community members, so that the client gets the bespoke community that will best serve to solve their issues. Furthermore, we ensure confidentiality e.g. through NDA's if the client wishes so.
Can you provide an example of such challenges?
Concerning a public challenge, we helped Rivella, Switzerland's most famous soft drinks brand, to create a new beverage that would be accepted in the market and attract a new target group. The community helped them not only to find the fitting flavors with Rhubarb and Peach, but also initiated the development of a whole new sub brand to launch these products. Process-wise this was a consecutive circle of ideation, condensation and reiteration on the results.
Concerning a private challenge, MAN Diesel & Turbo had a highly specific and high-tech challenge. Therefore, we recruited physicists, mechanical engineers, and construction experts to work on the energy transmission for a hermetically sealed device. The scouted community of 25 experts generated more than 60 ideas, from which a series of new approaches were discovered, which MAN took back for feasibility testing, all protected in a private space and under strict NDA's.
What motivates the crowd to take part?
There are two important factors:
In the initial brainstorming phase, there is a cash prize of at least 1,000 Swiss Francs, which is distributed between the top ideators depending on the challenge complexity.
But what is far more interesting for most of the experts, is to be part of the follow-up workshops with the customer. They get to go on-site with the company, they can network and exchange with these people. And, they get to work and provide input on some groundbreaking projects.
So, you changed your platform technology, and moved to HYPE. What were the reasons?
ATIZO 360° evolved out of a tech-startup that had a large development team. As we evolved, we learned that our growing customer base urged us to support and consult them with our experience in Open Innovation and best practice knowledge, as this is where real value is created over time. As a consulting company that coaches its clients and helps them to find the right solutions, we didn't want to have a team of developers and the distraction that can come with maintaining a leading software.
We looked at possible providers who could support what we required. HYPE was a good match in terms of our needs and the necessary capabilities of a new software. Not just from the technical side, but also from the cultural side we detected several synergies.
Besides the improved user experience, a fresh and modern design was essential for us. Our team worked really closely with HYPE to get that part right, so that the migration to the new platform was a big improvement, not just a straight replacement.
How has the community reacted to the revamp?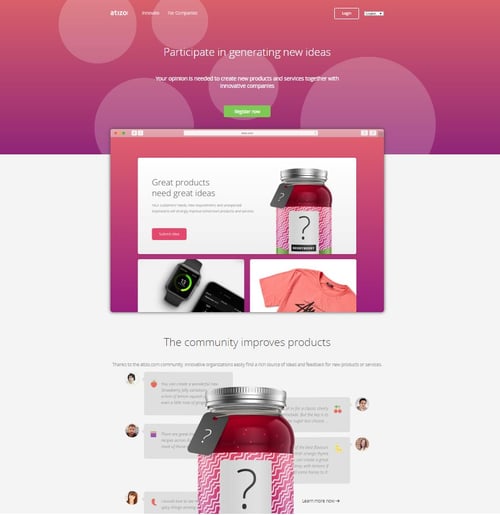 We ran a beta testing phase first with some of the lead users. This was helpful, as it raised some really good points which we went back to and worked on before the public launch.
From the customer side, they really liked the new platform. For the community, the reaction so far has been good.
We are launching lots of new challenges in 2017, so go check them out at atizo.com. Furthermore, we are adding Active Community Management to our services after the initial setup phase. We are able to consult our clients not only on the process and strategy level, but also on the technical side, both from a tool and solution management perspective as well as through technical consulting – Open Innovation from a 360° angle. So stay tuned!