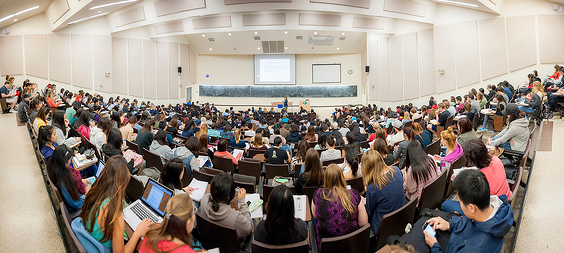 The University of California, San Diego, ranked the 14th best University in the World in the latest Academic Ranking of World Universities, announced the formation of the Standing Committee on Service and People-Oriented Administrative Culture (SC-SPOC) on February 9th.
According to the committee's chair Dr. Kit Pogliano, SC-SPOC was created with the purpose of serving as an advisor to the chancellor in achieving Goal 5 of the strategic plan, which specifically emphasizes the creation of a versatile and lasting infrastructure through dedication to service, people, financial stewardship, and the strategic management of resources.
SC-SPOC will also be responsible for identifying and recommending new initiatives with the intent of improving various processes and capabilities on campus. This will be done in part through the implementation of a new crowd-sourcing tool from HYPE Innovation, rolled out as Idea Wave on campus, that will be accessible to faculty, staff, and student employees by logging in via the campus' single sign-on. In addition to allowing for "less structured" ideas to be submitted, UC San Diego intends to use the HYPE platform to present users with specific, time-sensitive concepts to be addressed. It will then allow those with access to engage in developing solutions that are ultimately meant to improve the University. "HYPE Innovation's robust "idea" life cycle management capabilities were critical to our selection of HYPE as the technology backbone for this important initiative," said Robert Neuhard, Executive Director of Operational Strategic Initiatives, whose team will be responsible for managing the HYPE Platform.
Pogliano expressed her excitement over the introduction of the new tool, which emphasizes the importance of gathering perspectives from the UC San Diego community. "What we hope to do is leverage the collective expertise of the entire campus and their enthusiasm and really engage them in the process," Pogliano said.
Read the complete article here: http://ucsdguardian.org/2015/02/22/chancellor-announces-committee-efficiency/
Learn more about UC San Diego here: http://ucsd.edu/