Innovation Management Reports
Content to help you succeed with innovation management.
The Value of Innovation Management in Digital Transformation
In this report, MWD Advisors and HYPE Innovation look at the role Innovation Management programs can play in helping companies to adapt and embrace digital transformation.
Exploring Digital Transformation
In this meta report, Paul Hocraft summarizes the findings of his extensive research on the topic, and provides you with key visuals and graphs as well as a general overview on how to address this difficult topic.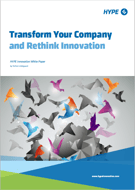 Transform Your Company and Rethink Innovation
In this report, Stefan Lindegaard challenges the empty talk about "innovation" and "innovation culture". It's time to rethink innovation: In the face of the IOT and the threat of disruption, companies and the people driving innovation have to transform, become more venturesome, and acquire new skills. But how?

The Execution of Innovation: What You Need to Know
For several decades corporations around the world have talked about innovation and tried many different efforts to get this to work at their organizations. The results have more often than not been mediocre or worse. The time has come to take stock of what's working and what needs to change to improve the odds of success.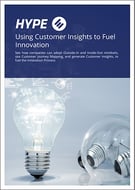 Using cutomer insights to fuel innovation in 2016
In this ebook, you will see how companies can adopt Outside-In and Inside-Out mindsets, use Customer Journey Mapping, and generate Customer Insights, to fuel the Innovation Process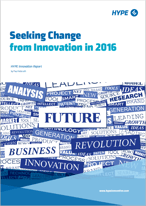 Seeking Change from Innovation in 2016
In this report, Paul Hobcraft gives us a comprehensive summary of innovation reports and research from some of the leading analysts and consultancies that provided insights in early 2016, including BCG, Accenture, Innosight and Cap GeminiC.
---
HYPE Reports for the Innovation Practitioner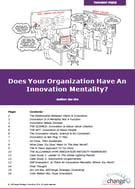 Does Your Organization Have an Innovation Mentality?
AllChange and HYPE look at how an organization is able to foster a culture of innovation. Innovation isn't a business function, but rather a mindset with a clear purpose. Included are two HYPE case studies, a self-evaluation tool to help you understand where your organization's mentality currently sits, and a maturity framework to help you develop further.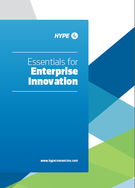 Essentials for Enterprise Innovation Management
This compact booklet tackles some of the key challenges that innovation managers face when running an enterprise innovation management program.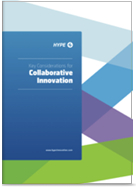 Key Considerations for Collaborative Innovation
This booklet provides you with some first insights and key considerations on how to tackle common challenges when deploying an innovation management platform.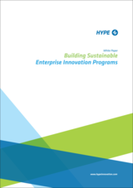 Building a Sustainable Innovation Program
In order to deliver on-going value, enterprise innovation programs must consider sustainability to help grow engagement and ROI. Find out how in this whitepaper by Colin Nelson.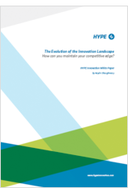 Evolution of the Innovation Landscape
How to create and sustain a competitive innovation ecosystem. This white paper by Haydn Shaughnessy explores how leading corporate innovators are responding to the challenge.
10 Perspectives on Innovation Management
Here we bring together a diverse range of thoughts on Innovation Management, from Haydn Shaughnessy, Paul Hobcraft, Colin Nelson, Jaspar Roos, Khattab Al-Ali.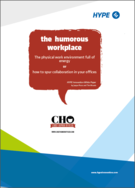 The Innovative Workplace

Learn how the physical environment can improve efficiency, creativity, and the overall wellbeing of your employees!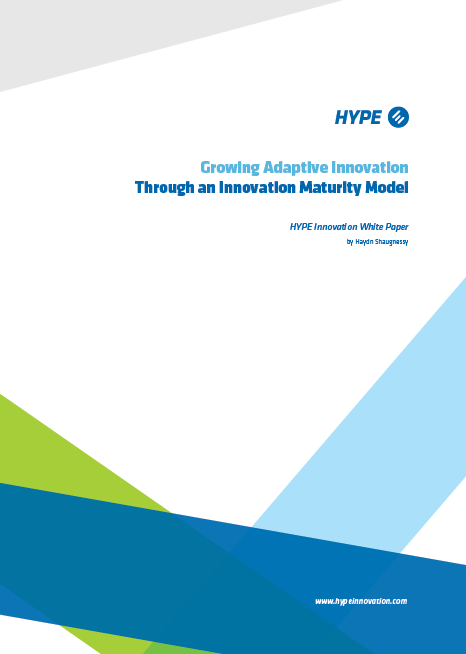 Growing Adaptive Innovation Through an Innovation Maturity Model
In this paper, Haydn Shaugnessy proposes a 3-Phase Innovation Maturity Model that will help companies plot their way through the innovation maze.
The HYPE Blog 2015 - Editor's Choice
Our best blog articles of 2015, selected by depth of the analysis and popularity, ready for you to download!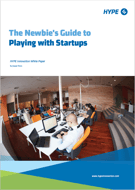 The Newbie's Guide to Playing with Startups
Learn how to approach startups and in what way enterprises and startups can benefit from each other!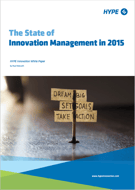 The State of Innovation Management in 2015
In this report, Paul Hobcraft gives us a comprehensive summary of innovation reports and research from some of the leading analysts and consultancies that provided insights in 2015, including KPMG, Accenture, Innosight and Strategy& PWC.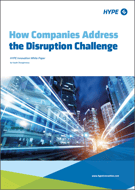 How Companies Address the Challenge of Disruption
Over the past 12 months the idea of disruption has spread rapidly in the innovation community and the wider business literature. Does the term imply a need for significant change in how innovation managers approach their work or how enterprises deal with disruption?