Hindsight, foresight, flash foresight, sensing systems, future thinking, chocolate futurists, open future approach, peripheral vision, clairvoyance or just an eerie premonition about what turn the virtual currency trend will take… the expressions used to describe probable and not-so-probable futures abound.
Fuzzy terminology aside, the ambition to sketch accurate portraits of the future sits high on corporate agendas. So high in fact, that it takes a seat next to "innovation". From Hollywood blockbusters (remember the Epagogix algorithm?) to Pfizer drugs (unravelling taboos and foreseeing commercial success), and from Michelin's PAX system tires (failing to predict how the ecosystem will react to radical innovation) to Hugo Boss' psychedelic surfware & other next-level fashions, strategic hiccups are feared. Notably those labelled "future avenues for innovation". Under these circumstances, studies and methods of studying the future become more relevant than ever. Let's explore how.
Experiments can only take you so far
While experiments certainly help explore what works in the short - even mid-term - and what does not (here is an earlier post on why experiments are invaluable to learning), devoting time, resources, and, of course, your undivided attention to foresight activities is a critical exercise for long-term survival. Turn to business literature and the articles abound. Strategy& (Formerly Booz & Co)'s inaugural edition on strategy and foresight is a great example. Published in July 2014 in the light of companies' fixation with growth, it offers a collection of excellent reads on change management, reinventing the enterprise in the digital era and even a journey through the CEO's office from 1914 to 2040.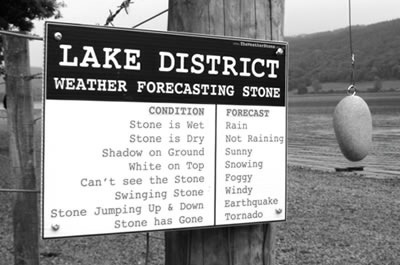 (Image source: http://www.crondallweather.co.uk/images/weather-stone-d.jpg)
Complementing the literature, physical events are also hosted to discuss the state-of-the-art in corporate foresight. The XXV ISPIM Conference in Dublin, for instance, arranged a special workshop earlier this year bringing together bright minds from industry, academia, science and government to share their research and opinions on the matter. It was at this event that I was introduced to one of the most cited works in corporate foresight - René Rohrbeck and Hans Georg Gemünden's paper on foresight's three roles in enhancing the innovation capacity of a firm. Below, a few excerpts from this invaluable study that analyzed 19 multinational organizations (e.g. Telefonica, Volkswagen, Osram, Deutsche Bank, Hugo Boss) via 107 interviews and a lot of NVivo 8 work:
- in the early 90s the limitations of forecasting became apparent and research moved away from trying to predict the future towards identifying possible, probable, plausible, and preferable futures; today in fact, practitioners are more inclined to invest in uncovering undetected currents than in assessing the impact and evolution of existing technologies (extra read: Scenario Magazine's essays on what our world might look like in 20+ year's time).
- foresight enhances the dynamic capabilities of a firm helping it stay competitive; additionally, foresight is expected to support the renewal of the strategic resource portfolio – at what pace you wonder? at the pace of corporate change, of course;
- out of all stakeholders, it is the users of the corporate foresight exercise that matter the most;
- why do firms find it difficult to renew their products and organizations? High rate of change, ignorance – i.e. short time frames for action, ineffective corporate sensors, information overflow, inability to assess impact; and inertia caused by complex internal and external structures;
- the three roles corporate foresight plays in enhancing the innovation capacity of a firm are: the strategist role, the initiator role and the opponent role (more details below);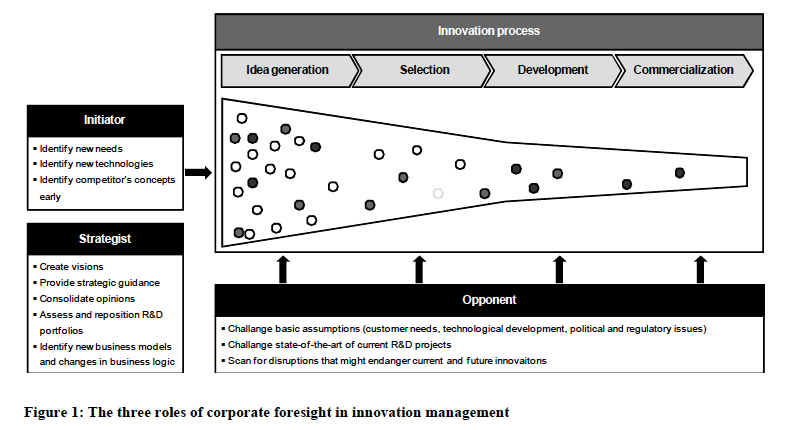 (source: Rohrbeck, R. and H. G. Gemünden, 2010)
The secret is in the sensors
We now understand how foresights links to innovation. But what about the practical aspect? How do corporate sensors evolve and what infrastructure is needed to make inferences about the future? Drawing a parallel to the natural world, Sidney Graham Winter, a US economist and Professor Emeritus of Management at the Wharton School, summarizes his thoughts as follows.
First, the sensors – or mechanisms used to detect threats and opportunities - are the products of evolution and usually reflect past events; such sensors are costly and a big part of their cost is fixed because (much like with bees or moths) they need to remain active whether something is happening or not. This means that in order to thrive, organizations need to create infrastructure for gathering information about the environment through its staff, and even members of its ecosystem. This infrastructure can be as simple as an idea management tool and as complex as a unit dedicated to foresight (e.g. PepsiCo's Advanced Research team).
Secondly, as organizations become more successful, they tend to reinforce the systems that helped them grow. Sadly, this also caps investment in new sensors, limiting peripheral vision and leaving managers exposed. Through feedback of experience, though, firms become better at coping with the environment – no matter what surprises it may hold; surprises like the advent of 4G networks and the reign of digital photography or disruptions in services to the likes of Airbnb, Lynda.com or Salesforce. The list goes on.
Generally speaking though, sensors of events are underutilized, expensive, ineffective or inconsequential and tend to atrophy. More often than not the past experiences are a bad predictor of the future and therefore trend and environmental analysis, creativity methods, scenario planning, simulations and even experts surveys such as Delphi are top ranked, leaving literature or patent surveys somewhat behind.
Some inspiration
To round up the discussion on foresight, here are some more examples of work currently done in this area.
- IDEO's made in the future initiative gathers bright minds to have bright conversations about the future. Current themes include: meaning economy, outer skills, making exchanges, raw systems and new matter.
- The Shell Game Changer program identifies and nurtures unproven ideas that have the potential to drastically impact the future of energy.
- Research at Google is a resource platform where the lines between research and development become blurred. The company frequently publishes groundbreaking research meant to advance scientific knowledge.
- SAP's conversations on the future of work are followed and fuelled by SMEs.
- Stanford actively engages educators in discussions about education's digital future in preparation for the next big leap.
Whether a promise or a threat, studying the future remains one of the most complex (and rewarding) exercises in the corporate world. Hopefully the pointers in the article will inspire you to be more proactive about your future too… Until that ceases to be fun. Over and out! I mean up.
Subscribe to the HYPE Innovation Blog
Subscribe to the HYPE Innovation Blog