For most of us, Friday at 5 p.m. signals the start of the weekend. We shut down our computers and power up our Netflix, or sign onto Zoom for a virtual happy hour or game night. But for the 250+ student hackers in this year's ElleHacks hackathon, the evening of Friday, January 15th, looked a little different as Canada's largest and first all-women student-run hackathon kicked off.
The 36-hour event, usually held on-site at York University in Toronto, needed to move online due to the global pandemic. We jumped at the opportunity to partner with ElleHacks to provide our HYPE Hackathon platform so they could take their in-person event virtual.
ElleHacks believes in and encourages unconventional ideas that change the world, and women are essential in tackling the world's most challenging problems. As a technology company in the field of innovation, we experience low numbers of women in STEM daily and strive to change the status quo. We created our Women in Innovation initiative to encourage more women to pursue a career in the field. So, it was a natural fit to work with ElleHacks as we share a passion for empowering women in STEM.
About the hackathon
Students participating in the hackathon were tasked with working in teams to develop, demo, and deploy their ideas addressing the hackathon challenges and submit a 3-minute pitch video for evaluation. Teams competed for one of 12 awards chosen by sponsors such as TD Bank, Royal Bank of Canada (RBC), General Motors, Rogers, Bell, and PwC.
The hackathon platform went live a week before the event so hackers could start creating their profiles, building teams for the hackathon weekend, and submitting ideas.
Overall, close to 450 participants from across North America joined as hackers, mentors, evaluators, and organizers.
The event kicked off at 5:30 p.m. with an Opening Ceremony streamed live on HYPE and YouTube. Hackers then had a few hours to finalize their teams, eat dinner, and visit the career fair. At 11 p.m., the hacking started!
Tackling social issues
The ElleHacks hackathon tackled issues brought upon by the pandemic, as well as topics related to financial literacy, climate change, and sustainability. Hackers could choose from four hackathon themes, also known as challenges or campaigns. Two of the challenges came from the ElleHacks team, and the other two came from Gold Sponsors, TD Bank and RBC. Below are the challenges that hackers chose from.

ElleHacks hackathon themes in the HYPE platform
ElleHacks challenges:
Climate Change and Sustainability: Create a tool that helps people understand climate change and how it affects them personally, instead of the entire planet. The tool could help people change their lifestyle, mobilize action, or even be an educational tool.
Financial Literacy: Develop a technical solution that acts as an educational tool for the youth to understand important and relevant financial concepts or develop a tool to help low-income families/immigrants/refugees make smart economic decisions.
Gold Sponsor challenges:
TD Bank: Help us better understand the unique challenges undergraduate students are facing right now during the pandemic, and they were looking for a new product or service TD Bank could offer to help students adjust to the "new normal."
RBC: How can RBC's rewards programs better help consumers make environmental decisions.
More than hacking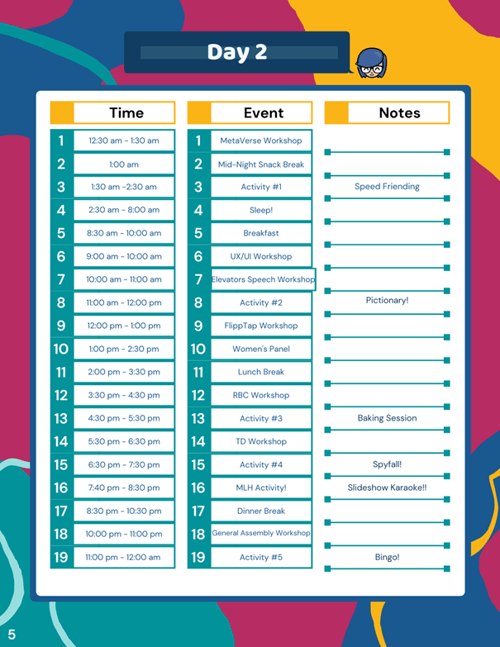 ElleHacks Schedule - Day 2

The event was not just about hacking. ElleHacks packed the schedule with workshops and activities. Some were designed to help the hackers with their hackathon projects (e.g., a workshop on User Experience (UX) and User Interface (UI), and a workshop on how to pitch). Some workshops introduced exciting technologies, like augmented and virtual reality. And one workshop focused on stress management - a much-needed topic at such a packed event.
The activities were a fun respite (everyone needs a break from hacking and workshops!) and included Pictionary, Speed Friending, and a Home Scavenger Hunt. The agenda even had time for a whole 5.5 hours of sleep (from 2:30 a.m. to 8:00 a.m.).
Time's up! After the hackathon
After the 36-hour hackathon, the teams had an hour to finalize their pitches and add their 3-minute pitch videos. About 250 hackers participated and submitted 60 ideas.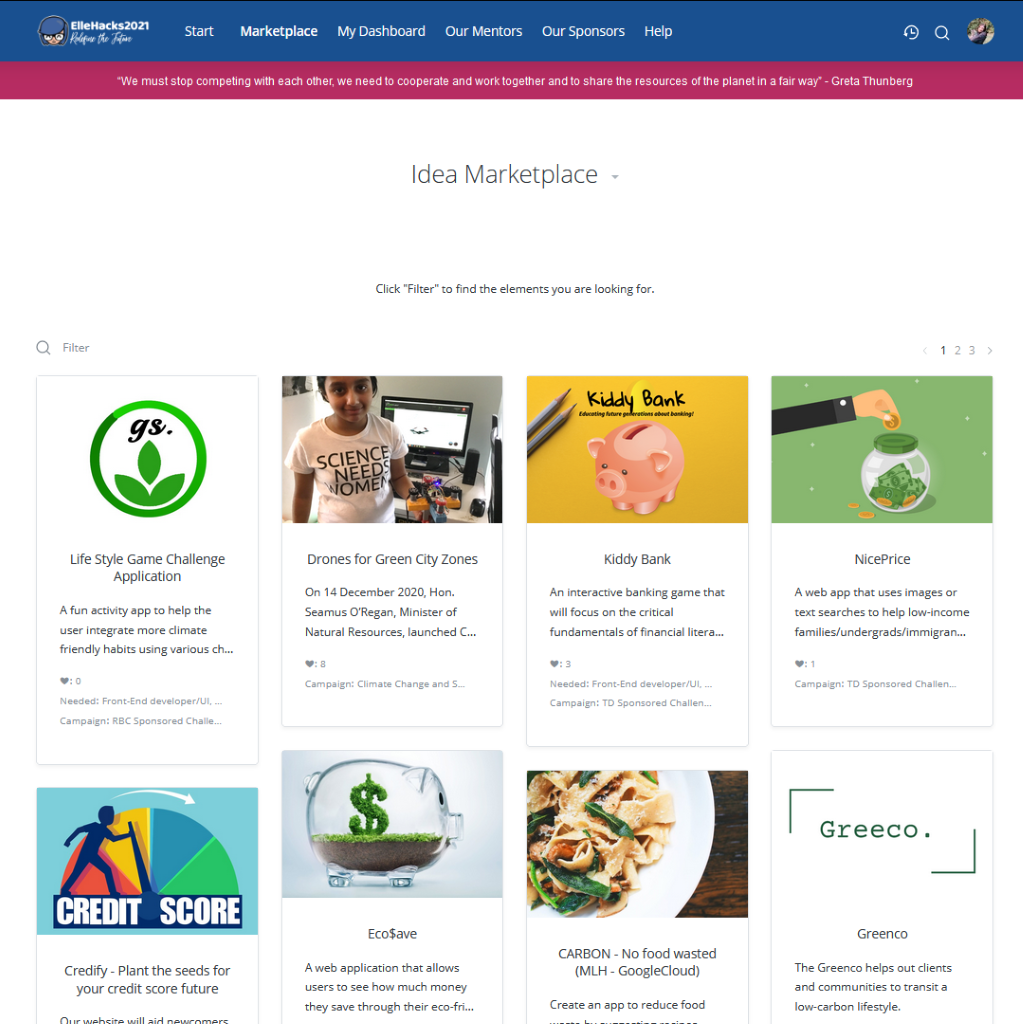 The ElleHacks Idea Marketplace where all ideas were submitted
Evaluators reviewed the pitch videos and selected candidates for the final round, where teams presented live in a Zoom session. The ElleHacks team announced the winners in a Closing Ceremony live stream at the end of the day. Afterward, everyone signed off to get some well-deserved sleep.
You can check out the pitch videos for all the winning ideas on the HYPE ElleHacks platform. You can also watch the pitch from the ElleHacks first place winner below.
ElleHacks 1st place Winner - My Forest: Monitor Trees Planted Using Rewards
My Forest is a web app addition to a reward system (RBC Reward system as example consumer) that allows customers to use their rewards points for tree planting and to monitor the status of the tree planting activities through a digital graphic.
A note from the author
Because of my STEM background (I have a Ph.D. in nutritional sciences and a Master's in Bioinformatics), I'm familiar with the challenges women face in the still male-dominated STEM world. Thus, for me, it has been inspiring to see so many young women and non-binary students interested in STEM participate in this hackathon and come with creative solutions.
It has been a pleasure to work with the group of ambitious, smart women organizing this amazing event. It was rewarding to see that hackers, organizers, and evaluators enjoyed the HYPE hackathon platform. Check out the closing video from the ElleHacks co-chairs below, and we hope to see you for ElleHacks 2022!
Interested in learning more about HYPE's Hackathon platform? Click here.


Subscribe to the HYPE Innovation Blog
Subscribe to the HYPE Innovation Blog