In the ever-evolving business landscape, a new wave of startups is promising to make its mark in 2024. These early-stage businesses are driven by visionary leaders, disruptive technologies, and an eagerness to solve real-world challenges.
As the global business ecosystem continues to evolve, these small but fast-growing startups have positioned themselves as change-makers, attracting the attention of investors and large enterprises too. While investors want to take a share in these startups in exchange for some well-needed funds, corporations scout for startups in order to form and sustain mutually beneficial synergies and partnerships.
The scouting process is not an easy one, so in this blog post, we share our carefully curated list of some of the most exciting startups that are disrupting markets and shaping five key industries: agriculture, fintech, AI, healthcare, and sustainability.
We created the list using HYPE Partnering's innovation partnership platform, which enables you to scout candidates for potential partnerships across industries as well as pilot and adopt new and innovative partner solutions.
Let's dive in!
AI Startups
SWOT Bot
German company SWOT Bot, founded in 2023, provides AI-based services to augment strategic analysis and decision-making. The company scours news sources and synthesizes the results, using AI, to create a rapid SWOT analysis.
PunchPose
UK-based PunchPose, founded in 2023, is an AI-powered "movement intelligence" platform offering a new, lower-cost, and automated way to provide individual and group workouts with the help of smart displays available 24/7. The company uses embedded cameras for its proprietary AI form-correction and tracking to ensure that its clients are exercising correctly.
Moonlight AI

Moonlight AI was created to democratize access to genomic information essential for therapy decision-making in the era of personalized medicine. The company believes that every cancer patient in the world should have access to genomic information since it is necessary when selecting the right treatment. Moonlight AI was founded in 2022 and is based in Switzerland.
Fintech Startups
NexTrade
NexTrade, founded in 2022, is a cutting-edge fintech startup based in Denmark. Its innovative technology, based on event-driven investment strategies and short-term market behaviors, offers a fully automated trading solution aimed at generating market-beating returns. The technology NexTrade created monitors the news 24/7, evaluating and reacting to events within milliseconds in order to beat human investors to the trade and seek to capitalize on the delayed reaction.
OpenTrade
UK-based startup OpenTrade was founded in 2023. It provides Web3 (a new iteration of the World Wide Web that incorporates concepts such as decentralization, blockchain technologies, and token-based economics) treasurers and institutional investors with access to on-chain transactions (transactions that occur on a blockchain that are reflected on the distributed, public ledger) structured financial products backed by investment-grade financial assets with the aim of providing predictable investment returns that are uncorrelated to crypto.
AlgoTP
Founded in 2023, UK-based startup AlgoTP has invented an algorithmic system that automates trading decisions based on predetermined rules, technical indicators, price action analysis, and machine learning. The aim is to maximize investors' profit rate through the company's automated trading bot. The company's system is suitable for beginners as well as experienced traders.
Healthcare startups
AVERio
UK-based startup AVERio was founded in 2022 to provide fall detection and monitoring software that observes the health and well-being of vulnerable people 24/7. In the UK alone, over 250,000 seniors suffer falls every year.
rAAVen Therapeutics
rAAVen Therapeutics is a Swedish startup founded in 2022. Its team is on a mission to pave the way for the next generation of gene therapies by creating gene-therapy delivery vectors (vehicles designed to deliver therapeutic genetic material, such as a working gene, directly into a cell) that benefit people with serious and potentially fatal health conditions.
ARCELLA
Dutch startup ARCELLA was founded in 2023. The company has developed a unique cancer data analytics platform to collect real-world evidence and combine it with a biomedical knowledge engine to generate advanced insights for clinical development and accelerated drug discovery.
Sustainability Startups
Improvin
Improvin is a Swedish startup company founded in 2022. Improvin's sustainability performance platform helps agri-food companies to measure, report, and reduce greenhouse gas emissions and enhance biodiversity in their own value chain. The company secured a EUR3.5 million seed investment to provide the digital infrastructure that food brands, processors, and mills can use to incorporate sustainability into their existing sourcing processes.
HeiQ AeoniQ
Founded in 2022 and headquartered in Finland, HeiQ AeoniQ seeks to significantly improve the sustainability of textile manufacturing. The company, which is the global leader in textile innovations, is creating the world's first "climate-positive" continuous cellulose filament yarn, which reproduces the properties of polyester and nylon yarn but is biodegradable and endlessly recyclable.
CIRCULAR REPUBLIC
German startup CIRCULAR REPUBLIC was founded in 2023. As part of UnternehmerTUM, Europe's largest center for promoting innovation and startups, the organization helps companies and startups to realize circular economy innovations and develop new business models. The platform networks relevant actors and aims to instigate system-changing impulses throughout the value chain.
FinnCERES
FinnCERES, an Academy of Finland Flagship Program founded in 2022, seeks to boost the world's bioeconomy by developing new bio-based materials in partnership with Aalto University and VTT (a visionary research, development, and innovation partner and one of the leading research organizations in Europe), companies, and research organizations. The aim is to help create a sustainable future and promote innovations based on solid scientific foundations.
Agtech startups
NUTRI-KNOW
Headquartered in Spain, NUTRI-KNOW was founded in 2023. The company aims to improve nutrient management practices in agriculture by gathering and sharing knowledge for the benefit of both farmers and the environment, which should lead to a more sustainable and efficient European agri-food sector.
AgriTechs
Founded in 2023, UK-based startup AgriTechs is seeking to revolutionize smart farming. The company is the world's fastest-growing smart farming, agricultural technology solution provider, academy, and advisory. It specializes in delivering cutting-edge Artificial Intelligence of Things (AIoT) and smart solutions for agriculture, energy, education, healthcare, transport, and smart city industries. Its innovative solutions are designed to optimize sustainable productivity, allowing growers to efficiently produce higher-quality yields while minimizing their use of the precious resources of water, land, and energy.
Kelpinor
Kelpinor is a Norwegian ocean technology company with roots from NTNU that has developed an efficient method for launching and harvesting seaweed carrying ropes, allowing for large-scale Norwegian seaweed production. The company was founded in 2022 and is currently on the pursuit of new natural resources, stricter requirements for emissions, and the transition to a circular bio-economy.
---
This impressive list contains just a small fraction of the startups available at your fingertips using HYPE Partnering's smart AI filtering feature. You can access the full database and scout for startups based on your own tailored preferences.
You can also subscribe to our free, topic-specific monthly Startup Radar newsletter to stay up to date on the 20 most exciting newly established European early-stage startups. Our monthly Startup Radar includes startups detected by our crawling technology that you typically won't find information about anywhere else.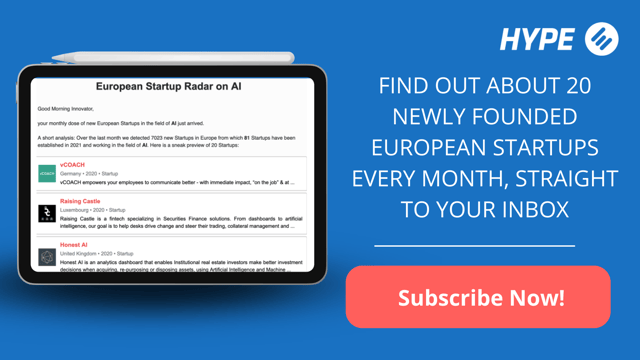 Subscribe to the HYPE Innovation Blog
Subscribe to the HYPE Innovation Blog