If you've ever paid attention to the number of new startups emerging every single day, you'll know it's a challenge to decide which ones are actually worth paying attention to. And if you decide that you want to partner with one of them, how do you find "the One" among the overwhelming amount of data and possibilities out there?
The simple answer is, as you wouldn't start a project without a proper brief, to start scouting for a startup you first need to clearly understand and define your exact needs.
In this blog, we explore how to understand and clearly define what kind of startup you're looking for as well as where to find them.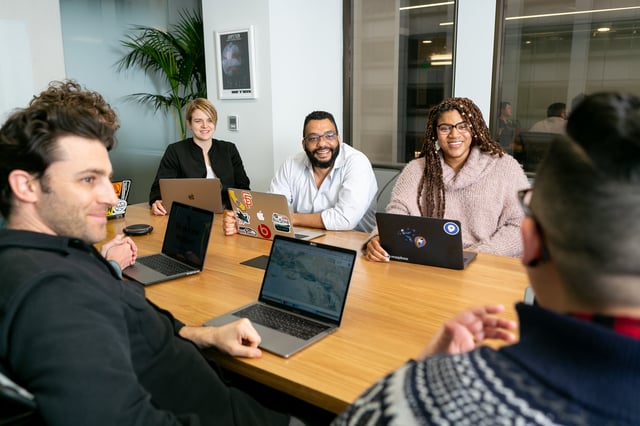 What is a startup?
"All startups are small or medium enterprises (SMEs), but not all SMEs are startups — due to their differences in set-up and vision" — EU Startup Monitor report, 2018
Startups are different kinds of SMEs. Typically, they are a company at the very beginning of its business operation, led by an entrepreneur seeking to turn their idea from a concept into a scalable business. More often than not, these ventures come with a high risk of failure and don't have huge funding behind them at the outset.
While many startups are early-stage tech companies, they're also found in other sectors:
31.95% Software & Data

10.19% Healthtech and Fintech

9.47% E-commerce & Retail
And it's probably no surprise that the US produces the highest number of startups, followed by India and the UK.
What is a startup ecosystem?
Startups are a critical driver of economic growth and innovation in today's global economy. Recognizing their significance in the modern business landscape is the first step to exploring how to benefit from this very particular ecosystem.
There's certainly no doubt that startups foster innovation by developing creative ideas at a fast pace and with little fear of failure. They are often at the forefront of technological breakthroughs, pushing boundaries and driving progress.
An increasing number of platforms (Seedrs, Crowdcube, etc.), organizations, and individuals are supporting the creation and growth of these startups, and we're starting to see ecosystems that are all working together in unison to nurture and propel new businesses forward.
The startup ecosystem is a linchpin of modern economies and it's here to stay, making partnering with startups a key priority for big businesses seeking to drive innovation and reach new markets.
Synergies between corporates and startups​
In a nutshell, why are startups important for corporates?
They help corporates act with agility​ and challenge the status quo
They are adept at uncovering new ideas​ and entering new markets​ quickly
​ Why are corporations attractive to startups?​
Corporates give startups access to the market​
They provide market knowledge, resources, and capital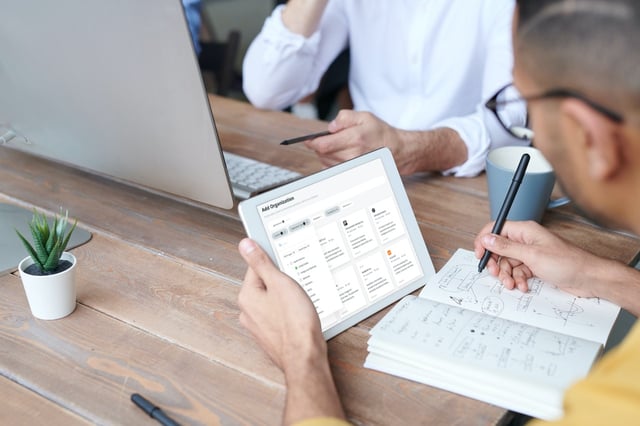 Type of collaborations between corporates and startups​
Collaboration between corporates and startups can take various forms, each tailored to meet specific objectives and needs. Common types of collaboration include:
Investment: Of course, one of the most popular forms of partnership and usually the main goal of each startup is investment. An entrepreneur comes up with an idea that could help a stagnant corporate disrupt the market and the corporate has the necessary funds to execute it. A match made in Heaven!
Partnerships: Corporates and startups can form strategic partnerships to jointly develop and market products or services. This helps corporates develop new products in a "startupy" and agile way and expand their market reach.
Accelerators and incubators: In this scenario, corporates provide startups with mentorship, resources, and workspace in exchange for equity or other forms of collaboration.
Mergers and acquisitions (M&A): Corporates may acquire startups that align with their strategic goals. This approach allows corporates to integrate the startup's technology, talent, and intellectual property into their existing operations.
Supplier relationships: Corporates can establish relationships with startups as suppliers, sourcing innovative products or services to enhance their offerings or streamline their operations. This is a straightforward and common type of partnership that many startups are seeking as a way to boost their revenue stream without losing their equity.
Whatever the type of collaboration, there are a myriad of startups to choose from. So how do you find the right one for you?
The first step is to narrow down your search by clearly defining the criteria that are important and relevant to you.
How to define criteria when searching for a startup
The "why?"
Start by clearly defining why you are looking for a startup. Draft a short description of the product, technology, or search field in which you're looking for startups to provide a first-hand overview of what and why you're looking to collaborate.
Example: We're searching for new and innovative products in the field of kitchen appliances.
Industry and search fields
Next, define which industry you're searching in. Is it healthcare, AI, food & beverages? This will significantly narrow down your search as databases and startup communities are typically categorized by their industry. Then, google "healthcare startups," or go to a startup database and filter the results out by industry.
At this stage, include other related search terms, for example, share economy, and smart factory. Maybe you have a list of the relevant technologies that would be a good fit, like VR, AR, or 3D printing. What are some possible use cases? On-boarding of employees, logistics?
The founding year of the startup
Then, decide whether it's important when the startup was founded. Do you want to find a company at its conception stage or do you want to see a track record of the way they operate and do business?
The founding date is a useful tool to help you narrow down your search. For example, if you are interested in investing in technology and are willing to invest a significant amount, you should focus on early-stage startups. On the other hand, if you prefer to invest in later-stage startups, you can use the founding date to help you find companies that are further along in their development and likely have a market-ready solution that can be implemented quickly.
Does it have funding?
Funding means the startup is already trusted by someone (angel investors, VCs, or accelerators). That offers validation that the startup is promising because, in order to raise funds, it had to prove the value of its idea.
Geographical limitations
Is the location of the potential startup partner important to you?
Do you want to collaborate with a local startup, maybe because you want to work with them and meet in person? Maybe you're searching for a startup that exists in a specific geo-location that you're interested in entering. Or maybe legal terms are better in some locations compared to others? Keep geographical location in mind and include this factor in your search criteria.
How big is the team?
Startups can be a one-man band or a thousand-strong army of Gen Zs. Is that an important consideration for you? Do you want to work with their team, alongside it, or absorb it? This will be a relevant factor when considering which startup to work with.
How to find startups with HYPE Partnering
Once you've written a detailed brief, you can start your search. You could look through multiple databases such as CB Insight, or PitchBook, and copy and paste them into an excel sheet.
Alternatively, dedicated software such as HYPE Partnering covers all the most popular databases, enabling you to search for startups in one place without having to search multiple sources. You can simply save everything in one unified platform that also enables you to do the evaluation and relationship management steps in one place.
Using this type of platform means that your colleagues can see with complete transparency what's happening. It becomes an efficient and time-saving process as it avoids the need to provide separate updates or check-ins with your colleagues.
Once you've identified what you're looking for, using scouting software means that you don't need to perform the startup search twice or more in order to keep up to date with new startups. In HYPE's platform, for example, our scouting experts curate the process so that our "Startup Radar" informs you as soon as new startups match your search criteria.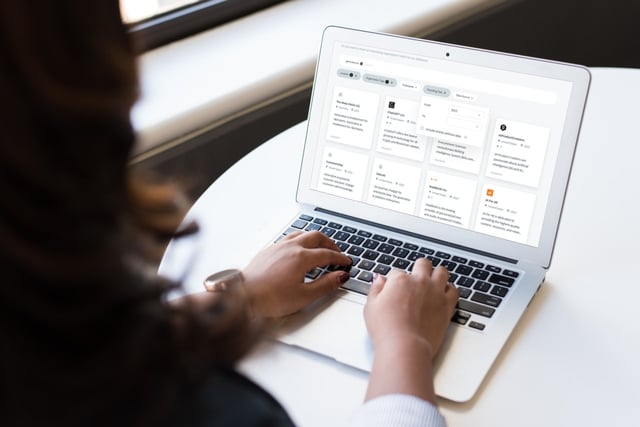 Using scouting boards for shortlisting, evaluating, and collaborating
A scouting board is a place to create a long list of potential startup partners to meet the objective you specified at the beginning of your search. While creating a short list, you can present the board to other stakeholders.
The scouting board provides you with the tools to search, explore, sort, group, and compare your potential startup partners to enable you to find the right candidates.
The purpose of scouting is to search based on a specific topic, find relevant organizations, add these organizations to a long list, evaluate that list to come up with a short list, and then create a use case or a project.
How to search
Include your specific search criteria for scouting for the right startups in the "search interest" field and complete the search interest questionnaire to provide as much relevant information as possible.​ The search terms you define at this stage can be used as keywords for your search on the platform.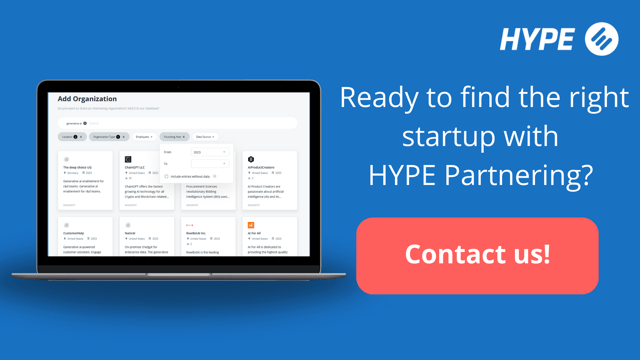 Subscribe to the HYPE Innovation Blog
Subscribe to the HYPE Innovation Blog