Improved Collaboration
In the period when Ricoh NZ relied on its iBox suggestion box, employees who didn't come up with an original idea to contribute were left out of the innovation process and weren't given an opportunity to contribute their expertise to develop submitted ideas. Through a range of collaboration options on the HYPE platform, including "commenting" and "voting", every employee has the opportunity to contribute to the innovation process.
It was felt that some employees were left out of the process because they didn't have an original idea to contribute, but they were keen to add their expertise to existing ideas. With enriched collaboration options, all employees now have a role to play in innovation.
"Since using HYPE, we've seen much more collaboration between locations. We can also quickly see how ideas can be useful at different locations. We can then bring in other departments and get people working together. We're on the lookout for synergies."

- Darren Elmore, ThinkTWICE Project Manager
Better Engagement
With the iBox, employees felt that their ideas had no impact and were likely to be shelved without being implemented. Now, with the HYPE platform, ideas are transparently evaluated in a timely manner, and selected ideas are developed further. As a result, employees feel more engaged and valued and are eager to contribute to the more innovative culture.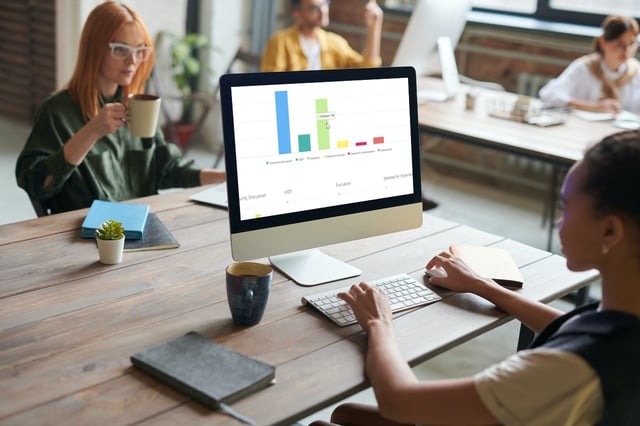 Enhanced Ownership
of Ideas
HYPE's innovation platform encouraged employees to take ownership of ideas and document on the platform how they implement them so that colleagues can learn from them and adopt the same approach. This emphasis on employee-level execution has resulted in a high idea adoption rate of about 70% and increased transparency within the team.
"We want employees to implement ideas themselves when they save time or money, but more importantly, we want them to capture this in the ThinkTWICE platform, so that others can see it and make use of it. That creates a domino effect for good ideas."

- Darren Elmore, ThinkTWICE Project Manager
Integral way of working
With the help of HYPE Innovation, Ricoh is benefiting from high engagement and a high level of implementation of submitted ideas, ensuring a consistent approach to innovation across the company.
"We're interested in making it a norm, so high engagement and high implementation is the key. We are quite sure that the business will continue to improve if we keep working this way. Innovation and freedom to change must be part of the day job."

- Darren Elmore, ThinkTWICE Project Manager
Ultimately, the HYPE Innovation platform enables Ricoh to transform innovative ideas into successful projects efficiently and effectively. It has played a key role in aligning the company's innovation efforts with its strategic goals and in generating valuable innovation ideas.