When HYPE Innovation invites you to INNOVATE Bonn, the world meets. In April, 230 innovation management professionals from 16 countries – including Australia, India, and Chile – gathered in Bonn, Germany for the 10th anniversary of HYPE's innovation managers forum. With the impressive backdrop of the Kameha Grand Hotel at the Rhine River, HYPE customers and partners met for an inspiring three days of sharing ideas and knowledge on three core topics: culture, collaboration, and digitization. INNOVATE Bonn once again lived up to its motto, Learn-Share-Network, with 11 top-notch lectures, 11 topic-specific roundtables and interactive workshops.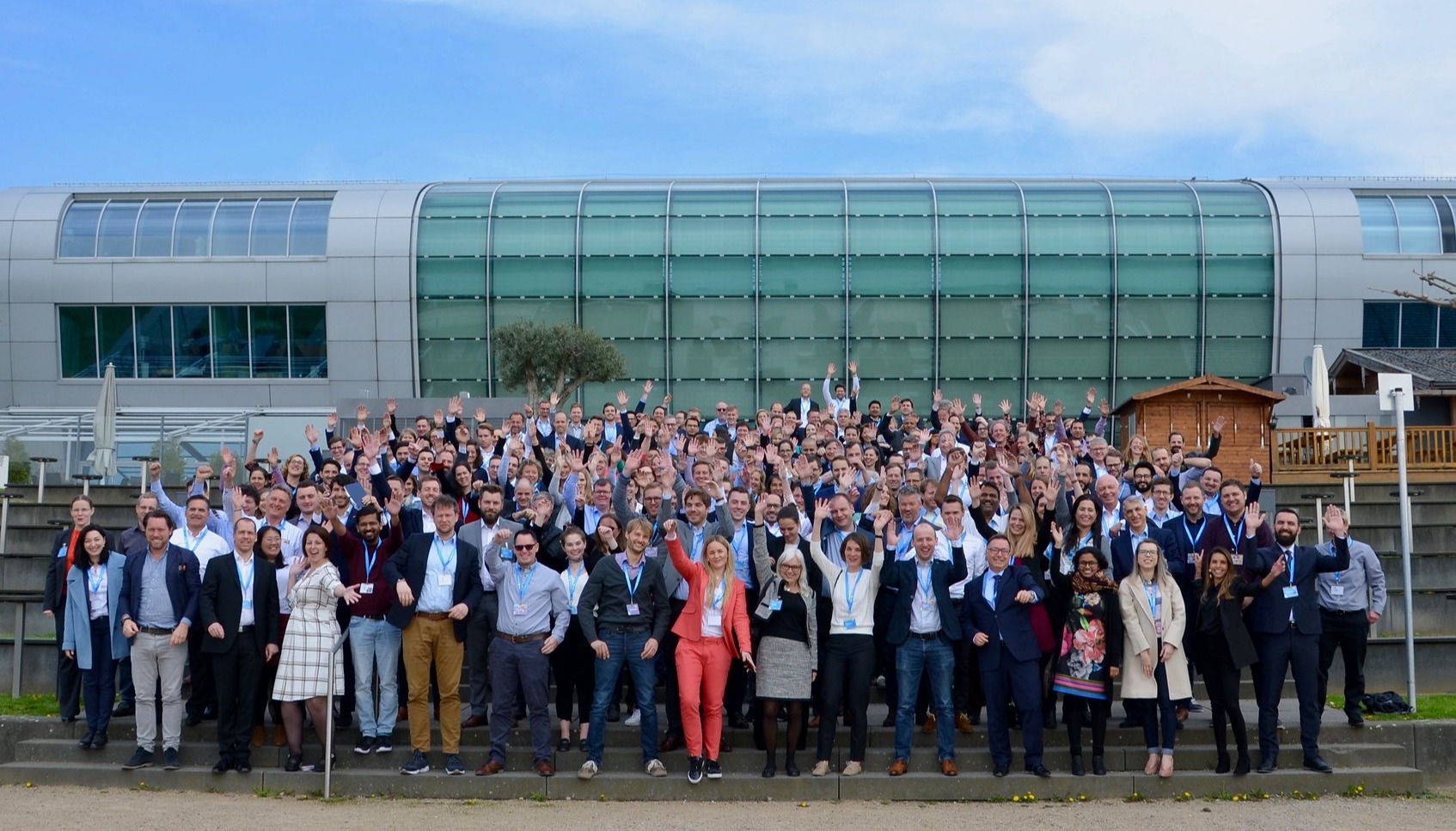 Today, innovation is a must – a strategic priority. For many decision-makers and experts in innovation management, INNOVATE Bonn – HYPE Innovation's flagship event – is also a must-have on the annual event agenda. This is where the heart of innovation beats, where best practices are shared, and where you learn what moves professionals all over the world.
This year's event agenda asked questions like how can you build a creative innovation climate? How can all stakeholders in the process work together in the best possible way? What opportunities do open innovation scenarios offer? What concrete applications are there for innovation management in the field of artificial intelligence (AI)? In short, where is innovation management heading? The robust program of INNOVATE Bonn left no question unanswered.

WATCH: Get a taste for what attending INNOVATE Bonn is really like!
The human factor: culture
It's a well-known fact that corporate culture is one of the main drivers – and hurdles – for innovation. But what is culture, and what factors are important for a permanently successful innovation culture? "Culture means shared convictions, grown values, routines, artifacts," explained John Bessant, professor of innovation and entrepreneurship at the University of Exeter and one of the most renowned experts in the field of innovation research. "Culture provides orientation; it forms the backbone of a company – its DNA."
The High Involvement Innovation (HII) model developed by Bessant provides companies with an effective tool for determining their innovation maturity. According to Bessant, "High Involvement" means nothing more than creating a culture for innovation. "Every employee and every idea count and can make a strategic difference," Bessant said. "But ideas need fertile ground, incentives, and promoters to create value."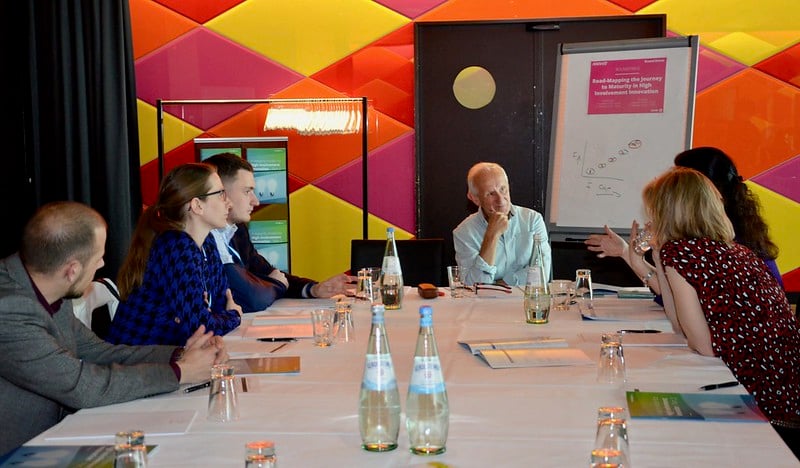 Companies with a high degree of innovative maturity – Bessant calls them "learning organizations" – use the power of co-creation. They act and cooperate dynamically, both internally and externally, with dedicated communities, based on an intelligent infrastructure. "But, they have to put their maturity model to the test again and again, constantly readjusting it," Bessant added. INNOVATE Bonn demonstrated how this internal maturing process works in practice with many best practices from HYPE customers.


"Whether you are a small startup or a big player, it is all about successfully creating value and enabling economic growth through the application of new ideas – innovation. This process does not happen by magic – it can be organized, managed, and shaped!"

- John Bessant, professor innovation and entrepreneurship, University of Exeter

Mark Famy, market development manager at Saint-Gobain, a 350-year-old construction giant, also showed how to implant the innovation code in the heart of a traditional company: its workforce. With an unconventional guerrilla tactic – by forming small, local, fast-operating groups – he set the cumbersome "gorilla" in motion.
His recipe for success: "Be a guerilla! Rely on colorfully mixed, agile units instead of rigid project teams. Use the erratic behavior of guerrillas and make a virtue of it. By doing so, you can solve problems focused on specific topics. The HYPE software can also help to foster and reaffirm cultural change on a large scale. Celebrate your shared successes to inspire others! The ultimate goal is to strive above all, to win the hearts and minds of all employees – and to take everyone on a journey of innovation!"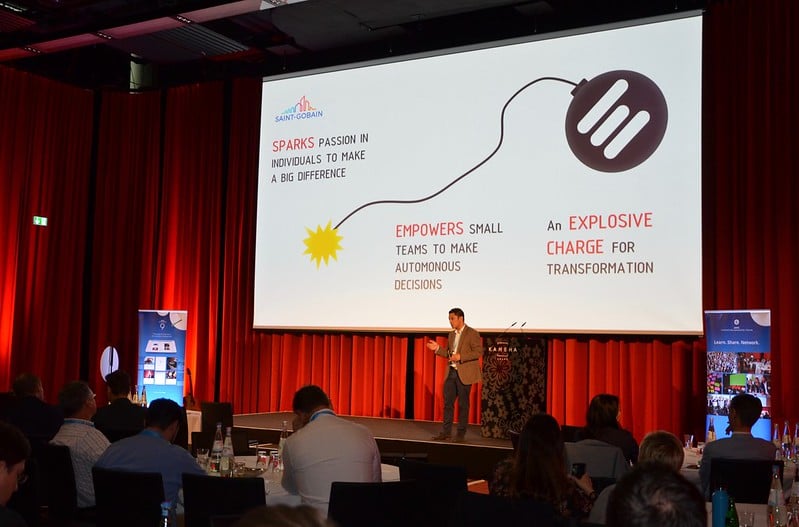 Collaboration in a new dimension
Culture and collaboration: the essential duo for sustainable innovation programs. The technological basis for this is provided by innovation platforms such as the Idea Hub at U.S.-based communications network infrastructure pioneer CommScope.
CommScope's director of global innovation, Lauren Miller, shared on the INNOVATE stage: "Our HYPE Enterprise-based Idea Hub reduces silo mentality, and promotes global collaboration, collective intelligence, and transparency." Every year, CommScope invites more than 12,000 employees worldwide to participate in the Big Idea Challenge, the company's largest crowdsourced ideation initiative.
"By leveraging the power of HYPE software and best practices, we were able to collect, develop, review, evaluate, and process hundreds of submitted ideas in three months," said Miller. The cloud-based platform enables CommScope to build an innovation pipeline with thousands of shared ideas available to mine and cultivate, empowering innovators to actively connect and collaborate. "For our global organization, it is a key driver of our culture of collaborative innovation," Miller said.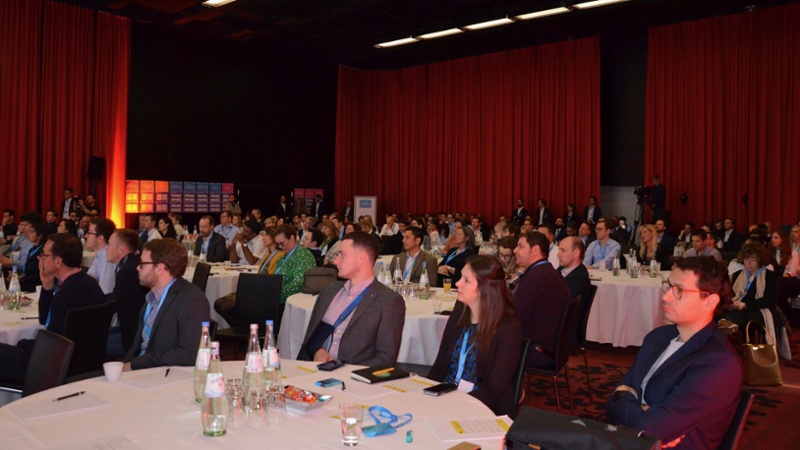 Wärtsilä is also committed to collaborative innovation as a tool for renewal. According to Wärtsilä's innovation manager, Emmi Kaipio, the Finnish smart technologies and complete lifecycle solutions provider for the marine and energy markets is in the middle of "the biggest transformation in the company's journey of 185 years."
The company has established several innovation key enablers for changing the clock speed and becoming an agile, smart technology company with a startup mentality. In Wärtsilä's Acceleration Centres, for example, co-creation projects for more growth are underway at dedicated Centres in Finland and Singapore as well as at pop-up locations around the world. Wärtsilä's cultural initiative LEAP promotes digital knowledge among employees. Around 700 ideas are submitted each year to the company's Collaborative Innovation platform, SPARK.
"Innovation always begins with people," Kaipio said during her presentation. "We do everything we can to boost the intrapreneurial mindset. For example, our Venture Board gives employees the possibility to present their best ideas to the top management – an unforgettable experience. This is how creativity and commitment are rewarded today!"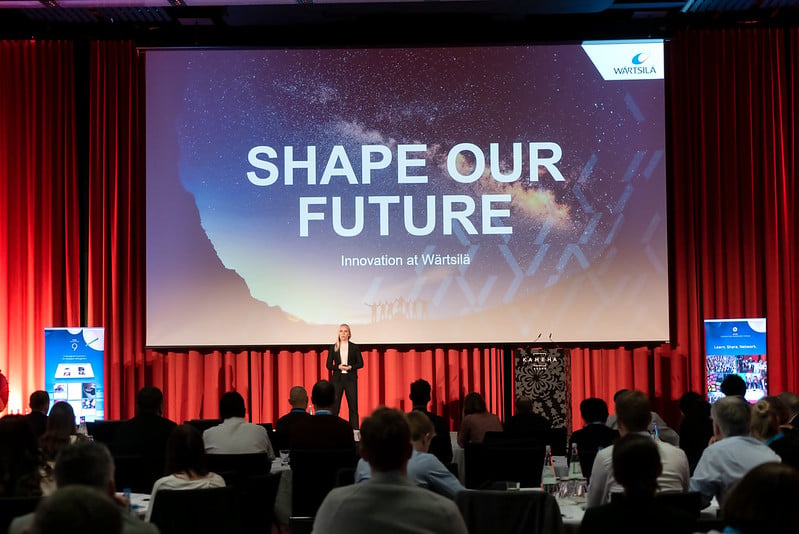 "Our focus is on breaking down the silos between our students and our faculty. We work at one of the most prestigious universities in the world and one of the most exciting science locations in the USA. That's why it's important for them to work together to develop ideas and external partnerships with other organizations so that as UCSD, we can support these companies, create startups – and use our research to make the world a better place!"

- Allorah Pradenas, Managing Director of Strategic Initiatives, University of California San Diego (UCSD)


In a nutshell: Empower your people. Once the right cultural mindset has been established internally, companies are increasingly opening up to the outside world. These companies rely on open innovation – the collaboration with external parties – to fuel their process and product innovation and reduce costs. Supply chain innovation, or open innovation in the supply chain, is particularly popular as a starting point. "Suppliers have a vested interest in the client's success," HYPE's director of enterprise innovation, Colin Nelson, explained. "You know each other, and you know about the problems on the other side. That's what makes these ideas so interesting."
Also, there are framework agreements and compliance agreements in place with most suppliers. "This reduces potential risks," HYPE's head of open innovation, Dr. Oana-Maria Pop, added. "Experiment, determine what goals you want to achieve, which target group is right for you. Clarify fundamental issues such as processes, data security, confidentiality," advised Dr. Pop. "Start with a handful of established partners. Invite them directly to your own platform, on a separate satellite or carry out a pilot project via guest access. Modern platforms like HYPE offer different solutions."
Digital transformation accelerates open innovation
Though not a new concept, attendees agreed that open innovation is currently "the big thing" in the field of innovation. At Wärtsilä, the focus is on collaboration with startups. The venture client model Wärtsilä applies allows to collaborate flexibly with startups in different stages. Emmi Kaipio: "We also drive to actively build and be part of the ecosystems because no company, no matter which industry, can solve today's challenges alone. And for that, participation of this type is ideal for our goals. It inspires us; it makes us faster, more creative, and it helps us to learn from other corporations."
Akzo Nobel, a major global company specializing in paints and coatings, also cooperates with startups in a big way through its 2019 Paint the Future startup challenge. This year, startups and scale-ups were invited via various social media channels to find solutions for major innovation challenges, such as intelligent applications or better functionality in transformative coatings.
"The integration of entrepreneurs (not just young ones….) into our ecosystem opens up huge potential and likewise strengthens our brand, business, and culture," said AkzoNobel Innovation Manager Fiona van den Brink. "But you need to cut red tape and establish a fast process for startup collaboration." In any case, the Startup Challenge 2019 hit like a bomb, resulting in 1,074 participants, 160 entries, and over 1,700 comments. In May, 21 finalists were invited, and five winners can now look forward to contracts with AkzoNobel.
Van den Brink's advice: "Look for strong supporters, a top-level mandate, involve departments such as IP & Legal at an early stage. Equally important: strong leads, dedicated teams, and a powerful platform for all activities. The effort and resources required for such large campaigns should not be underestimated, but it's worth it!"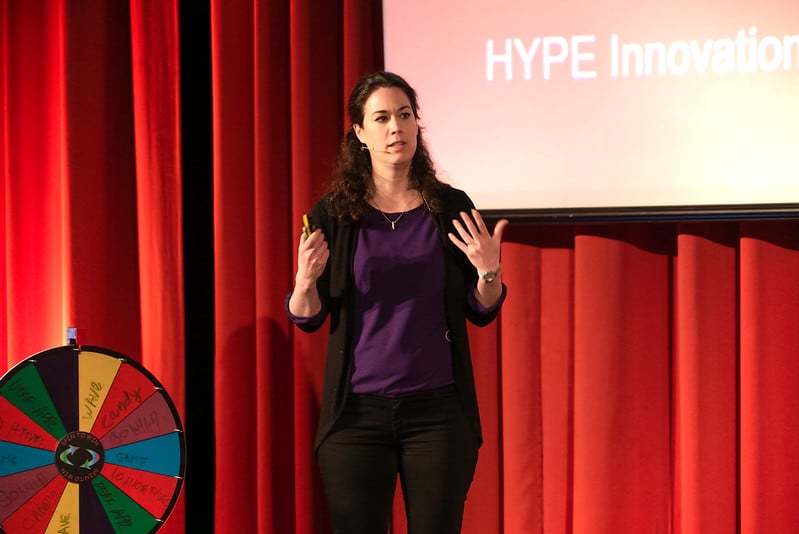 The proof that it's worth the effort came from Gavin McClafferty, head of open innovation at Subsea 7, provider of offshore projects and services for the energy industry. His open innovation expedition, in cooperation with HYPE and our partner NineSigma, has paid off. As part of the large-scale crowdsourcing initiative 7 Innovate, Subsea 7 has access through NineSigma to over 45 million solution providers, founders, SMBs – and an end-to-end process for ideas, from conception to prototype.
According to McClafferty, the open innovation rally is a huge success. "We have top participation rates and many groundbreaking ideas that reduce our costs and improve our efficiency, also internally through the HYPE platform," McClafferty said. "Our 3D printing, for example, is now ten times faster. We are on the right track! Recognizing tomorrow's needs and problems and solving them today – this is only possible in cooperation with new ecosystem partners."


"Our HYPE Enterprise-based innovation program offers us a good deal more access to important internal customers and key players outside of traditional IT. We interact and discuss with other departments what kind of innovations they are looking for, and how we can help them. We also work much more closely with our partners. Ideas from talented, qualified people are always welcome. Through our 'ecosystem of perspectives,' we strive for diversity and expect much more exchange and collaboration between science and industry in the future."

- Andy Seferta, Head of Ecosystem and Analyst Engagement, Digital Technology Services, EMEIA, Fujitsu

The future is now
BASF, the world's largest chemical company, has also experimented a lot with external partners, including students, startups, customers, and even competitors in the R&D field. "The best ideas come from a mix of different perspectives," said BASF Innovation Manager Dr. Daniel Käsmayr. At BASF, the collaborative idea platform IDEATOR acts as a group-wide open innovation basis. "There's a rule for all web-based platforms: no dialogue without critical mass," Dr. Käsmayr said. "This is achieved through different tactics in different growth phases – exclusive content, for example, or winning VIP user." BASF has identified unique users for this purpose, then adapted campaigns, KPIs, and tools to them and refined them step by step.
"We achieve the greatest benefit for all users by learning from the platform economy," Dr. Käsmayr said. "We need the right tools at the right time for the right target group. Tomorrow, experts will probably use collaborative writing tools instead of 'old school' forums and orchestrators suitable digital tools to replace their current paper chaos."
Dr. Käsmayr's conclusion: "An extended campaign assistant, SURM ('Startup Relationship Management') prototyping, and the HYPE customer platform Connect & Learn are further levers. In cooperation with HYPE and external partners such as MAPEGY, we are constantly discovering new options and value-adding integrations, for example, with regard to the topic of strategic foresight."
With so many trends, the topic of artificial intelligence (AI) was not to be missed, of course. For participants in INNOVATE Bonn's AI panel discussion – with representatives from HELLA, MAPEGY, the University of St. Gallen, and the University of California, San Diego – the most significant potentials lie in the areas of health care, autonomous driving, social media, and marketing. According to their assessment – and in line with a recent Deloitte study – AI will not destroy jobs but rather connect man and machine provided that companies invest massively in employee training.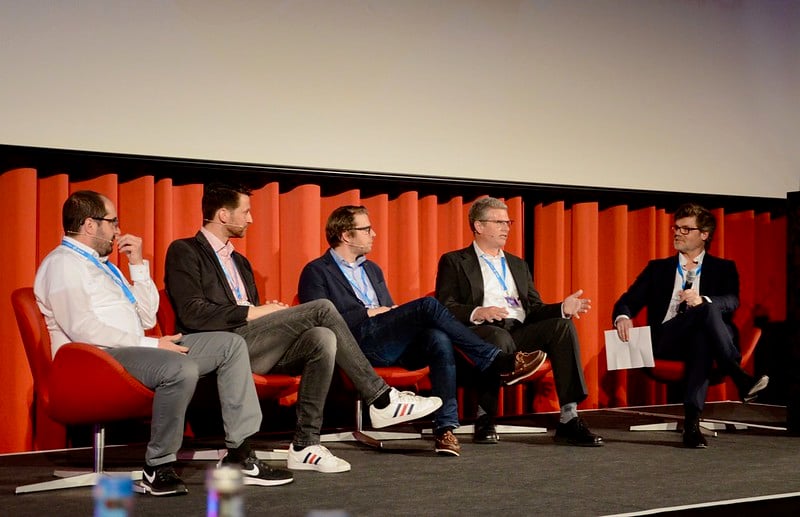 But how can you successfully start with AI? "It is basically like open innovation," explained HYPE co-founder and CTO Dr. Frank Henningsen. "You first need the right mindset, a solid strategy, and an internal process; then you look for external expertise." He illustrated what AI-based innovation management might look like. "AI-based algorithms are levers to identify and use promising ideas much faster," Dr. Henningsen said. "In October, we plan to launch our Idea Quality Lab. It filters and clusters ideas, influential experts, and exciting topics and trends. Further AI features are just being prepared."
Either way, HYPE's roadmap is very ambitious. Modules and solutions for open innovation and co-creation, scouting insights, and strategic foresight are planned with partners such as Atizo, NineSigma, HYVE, Valuer, and TRENDONE. As of August, with the launch of HYPE Enterprise 9.8, a Scouting Insights module is to be available in co-operation with MAPEGY. "We have grand plans," said Dr. Henningsen. "It's always about what customers really want. We find this out in co-creation workshops – for example, there was a successful design thinking workshop on partner relationship management with Wärtsilä, WACKER, Veolia, BASF, and innogy. And also, here, at INNOVATE, on crowdfunding."
The native HYPE mobile app, open innovation features like the ones for Wärtsilä or AkzoNobel, accessibility according to WCAG 2.0, radar visualization, big data or blockchain, as well as a portfolio analyzer are already available. In any case, HYPE is all set for any future scenario. HYPE co-founder and CEO Enno Scholz said: "HYPE is the ship on the journey to tomorrow and beyond on which we can all create and shape the future together – with customers and with partners. Join us for the ride!"


Open innovation offers huge potential! We are a globally recognized brand; people trust us and already support our UNICEF team in so many ways. But we don't have a broad platform yet that allows them to contribute their ideas. If we open this door and listen to people who would like to contribute to our mission and work, we will very quickly benefit from it, anywhere in the world."

- Juan Mones, Global Fundraising Innovation Manager, UNICEF


From idea to application
Of course, innovation management does not only take place in the future but, above all, in the office. INNOVATE Bonn offered a technically sound "deep dive" and handy advice on every topic for innovation professionals of all levels. For example, Liberty Global Innovation Manager Sarah Kelly shared her "storytelling secrets" (and lots of practical tips) with the INNOVATE community in her workshop, "Telling and Selling Your Innovation Story."
According to Kelly, communication is key. "First and foremost: Communicate, come hell or high water," Kelly said. "Many of us work in small teams, on a small budget – we need creative ideas and tools to set ourselves apart!" She encouraged participants to dare more. "Use free tools, video platforms, the HYPE channels. Go for funny posters, projects in off-beat places. Be a bit edgy, stand out! One of our marketing smashers was a 'kissing booth,' that was a big hit!"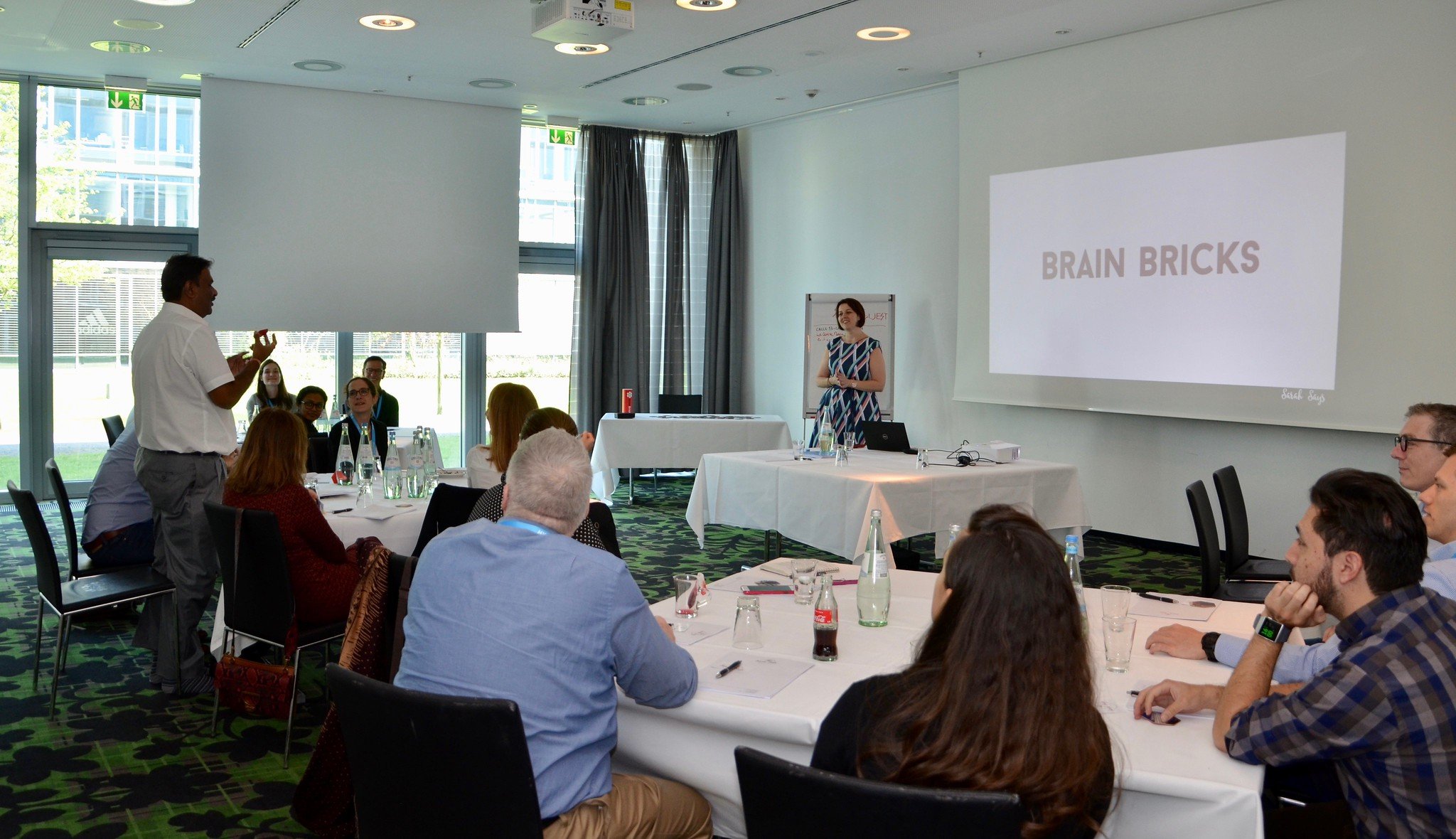 Some more practical tips: according to Kelly, campaigns start best on Tuesdays or Thursdays between 10 a.m. and 2 p.m., and the theme should ideally consist of just one sentence. She also shared ways on how to increase internal engagement.
"Want more support, from your colleagues, your boss? Appeal to their egos! Make a secret of your initiative – then everyone wants to join. Establish a 15-minute-meeting with the CEO – without slides. Just listen to him, ask him how you can support him. He will remember that – and next time listen to you if you want something," Kelly said. The 2-hour workshop just flew by and brought not only many practical recommendations, tips, and tricks, but also a lot of fun.
When words are followed by cake
Fun also applied to INNOVATE Bonn as a whole. "This is Where the Magic Happens," the anniversary's announcement on HYPE's event page, hit the nail on the head. Whether a first-time visitor or INNOVATE veteran, whether from Sydney or San Diego, France or Finland, whether at the casual cocktail get-together on the Kameha terrace with a spectacular view of the Rhine or the festive dinner in the grand "Dome" – the atmosphere was magnificent from the very beginning and grew day by day.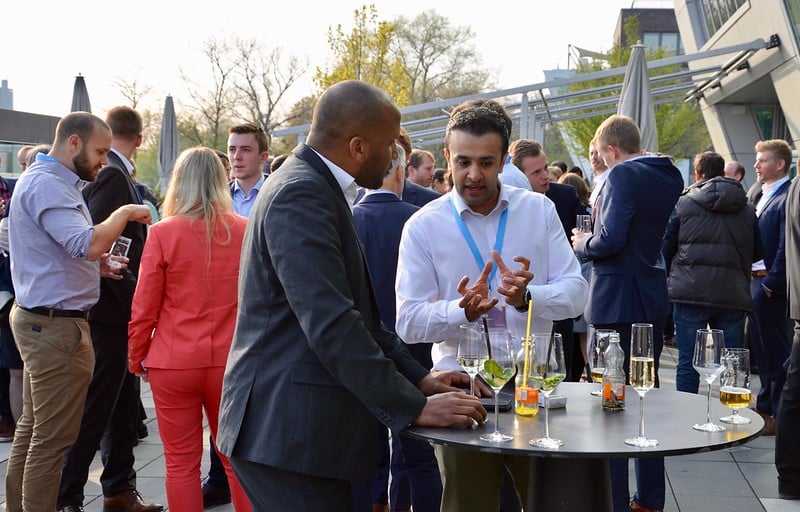 Undoubtedly, the cultural highlight was Wednesday night's birthday party to celebrate the 10th anniversary of HYPE (mmm, delicious cake!). The live band, "Las Bombas," fired up, with guests being thrilled by the duet of HYPE's event manager, innovative organizer, and talented singer Jessica Lopez with the bandleader, the dance floor filled up – and then the party just went on and on... 😊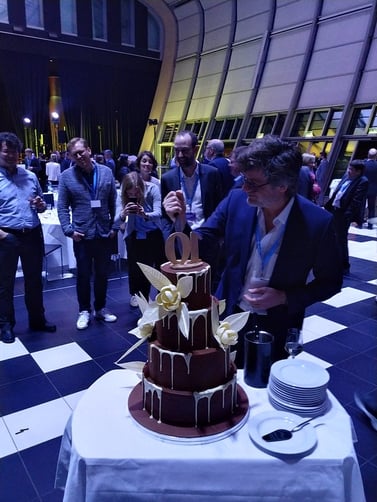 Many thanks to all participants! The HYPE team is already looking forward to INNOVATE Bonn 2020!