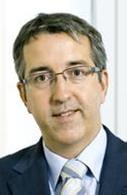 Bonn and Boston (July 2013) - Stefan Kaspari becomes HYPE Innovation's new Chief Operating Officer (COO). In this role, he will lead the sales, presales, and marketing divisions. Stefan joined HYPE from T-Systems, where he was a Senior Vice President and an authorized signatory.
Leading a team of 350 people, Stefan was responsible for worldwide sales and business development (marketing, operations, portfolio management) for the service offering of T-Systems, generating a total order entry of more than 1 billion euros per year. Prior to working at T-Systems, Stefan worked for Nakisa, SAP, IDS Scheer AG, and Hager Group, with extended periods spent working in France, the Nordics, UK, Switzerland, and Austria. Stefan holds a BA and an MBA from the University of Wolverhampton and a degree in business administration from Fachhochschule Osnabrück.
Enno Scholz, co-founder and CEO at HYPE, states: "We are proud to welcome Stefan to the HYPE family. As a seasoned senior sales person, experienced in managing big operations and teams, he will have a major impact on our sales and marketing strategy."

About HYPE Innovation
HYPE Innovation is a global leader in end-to-end innovation management software. HYPE's powerful platform allows organizations to engage thousands of employees in idea generation and collaborative problem solving. The company offers professional services to help clients focus on measurable business outcomes that can be tracked through to execution. Companies work with HYPE for the flexible products, the deep expertise in innovation management, and the long history of success with some of the largest organizations in the world. The client community includes global companies such as GE, P&G, Bombardier, DHL, Roche, Nokia-Siemens, Daimler, Airbus, General Mills, Saudi Aramco, Bechtel, Clorox, Deutsche Telekom, and many more.
HYPE Innovation
Trierer Straße 70-72
53115 Bonn
Phone +49 228 2276 0
Fax +49 228 2276 110
marketing@hype.de