"Being ambidextrous" in organizations is the ability to successfully combine the exploiting of all the investments that have been made to date and constantly building on these achievements by exploring new areas and opportunities. This calls for dual thinking and organizational design to optimize the two orientations.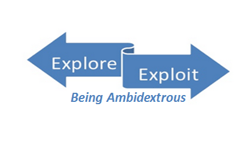 We are striving to maximize the existing utility, usually through continuous improvements and exploiting incremental advancement and combining this with the need of exploring beyond the existing core competencies, adding in new knowledge, capabilities and competencies for new possibilities, and preparing the organisation to discover and shape the new market, products and services.
The question becomes: how do you engage in enough exploitation to ensure and continuously improve the current viability of an organisation while equally providing enough additional focus on the exploration to ensure future viability? Perhaps a classic chicken and the egg dilemma - if you don't have an egg, how do you get a chicken but if you don't have a (healthy) chicken then how can you produce any eggs?
We are constantly dealing with balancing the interplay between the two.
Exploiting mostly deals with the current business, whereas exploring is new territory, in terms of new technologies, markets, positions, products, services, and business models. The two, when successfully brought together, create a unique competitive position. The paradox that results, however, is that these require different mindsets, skills, structures, and processes. These quickly begin to conflict while managing, in the necessary focus required and in the overriding pursuit of efficiency and effectiveness.
It is not easy to switch one off and the other one on in complex organisation settings or well-established structures. We need to separate out the actions of exploit and explore consciously. It is not like our often unconscious ability to simply switch hands or the way we make a conscious change in our thinking, when we prepare to adapt and adjust mentally for these different activities at a personal level. In an organisational setting, it is far more complex.
Here are three examples of how Apple, GE, and Google work in highly ambidextrous ways
All three of these companies are efficient in the pursuit of short-term performance, while simultaneously building the continuous innovation capabilities of exploring in new ways and pushing the boundaries of exploration.
They all are pursuing a high level of scale, by practicing this dual discipline of exploiting and exploring but in uniquely different ways.
Apple- the masters of fusion locked in
For years, Apple has been known to be excellent at exploiting new technologies, adapting them, and using consumer insights to support the user base by constantly updating their products with new features through continuous improvements. They are a prime master of exploiting, but are also able to translate this exploiting into new concepts and value propositions that transform existing thinking and markets.
Apple does an equally excellent job of exploiting its position in its app store through its supply chain, customer service, and its personalized services in the Apple Retail Stores. It has become the master of engagement, extracting and exploiting all touch points into its customer base, while also exploring numerous new boundaries for this customer engagement process.
They have become proven explorers with the release of new products emerging from the iPod, iPhone, iPad and I-watch. These have been highly exploratory as they have created new competitive spaces and categories.
They are exemplary exploiters and equally real explorers, as they are seeking ways to use technology, design and functionality in completely different, market shaping ways. Their objective is to extend and attract new users, but lock in the loyalty as well, through the integrated closed design systems they provide.
As of now, we are seeing more exploiting since the next generation phones are extensions on the existing; created more through exploitation means not exploration discoveries. Apple, however, dooes have the ability to 'fuse' the two.
Apple seems to possess this dual level of organisational ambidexterity in all of what they do. We regard them as highly explorative and exploitive as they have achieved a high level of blending between the two.
GE - the 124-year-old software start-up.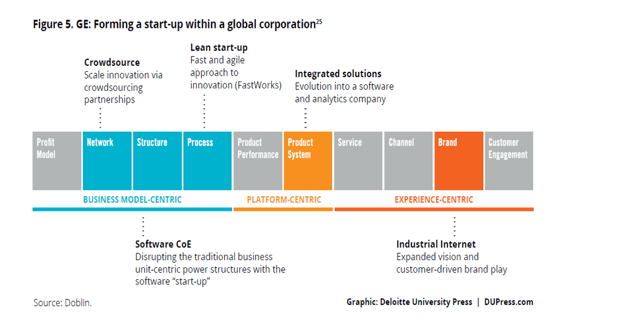 GE is presently undertaking a transformation from its heavy-industry roots to building a computer operating system on a huge industrial scale - the equivalent of Microsoft Windows or Google Android, for factories and industrial equipment. This concept is defined as the "Industrial Internet".
They have defined digital technology, using inexpensive sensors, powerful computing, and clever software as the defining technology layer that connects the machines they make. This has shifted the selling of machines into "business outcome solutions", like fuel saving, downtime management, energy efficiency or early warning of problems for predictive maintenance.
Changing the very heart of GE
GE is well known as being an extremely bottom-line focused organisation with increased concentration on its quarterly performance. It is highly exploitative in its market position. Most of its products are high-cost capital items (jet engines, locomotives and gas turbine, and health scanners) that might have long lifetimes but consistently requires high investments in research and development to push advanced design, engineering and manufacturing.
GE is building on its prowess in engineering and research by engineering more cohesive and intelligent systems. They are exploring ways to do this through the application of technology and new materials; it is investing in 3D printing to create entirely new parts with new properties, achieving greater speed in the production of the parts, gaining real advantage in it composition strength and reducing the weight of essential parts in jet engines.
To achieve this, GE has adopted a lean methodology to increase concept-to-market speed by adopting fast prototyping, testing, and adjusting to improve versions. It has moved from reactive to preventative maintenance, fixing machines before they break down, reducing unplanned downtime, and raising the efficiencies of the machines. It is constantly encouraging research and development the practice of exploiting and exploring. It is leveraging the resources available and building multiple teams tasked to find breakthroughs and leverage on existing platforms and applications.
It is pioneering the Industrial Internet through its Predix Platform Technology, offering software-defined machines, industrial big data, and opening up its software development to developers. It has also set about simultaneously exploiting data and exploring through analytics. The combination of exploiting technology embedded in the machine with exploring options for machine performance is dramatically altering the GE value proposition across its entire business. By embracing 'intelligent technology', it revolutionizes the machine's ability to perform at improving levels and reducing downtime, which is essential on high capital items that are critical to our infrastructure.
Adapting and responding to the changes within its management structure
To adapt to rapidly changing conditions in different industries and markets GE has structured its management accordingly between functional and geographical depth and expertise, to deliver on growth and competitive advantage to meet local needs. GE is striving to bring hi-tech, deep science and domain expertise together. They are structured globally to focus on specifics and manage the diverse needs of the individual and client markets.
By 2020, it is estimated that the "Industrial Internet Market", more commonly known as "The Internet of Things", will be worth approximately $225 billion. Jeff Imelt (Chairman & CEO of GE) has recently announced GE's intention to be a "Top 10" global software company by 2020.
Recognizing the value of knowing performance in real time by putting more and more knowledge into these machines through technology applications and then extracting this data via its own platform management, by using the cloud and offering predictive analytics at global scale, changes the value proposition significantly to a point that the data could someday be as valuable as the machines themselves makes this a massive shift. The world of high tech industrial manufacturing is being matched with the digital world.
If GE is truly going to be a digital-industrial company then it cannot be separated, it needs even more integration and fusing exploiting and exploring, which certainly makes GE a very ambidextrous organization in my view.
Google, Moonshots and Alphabets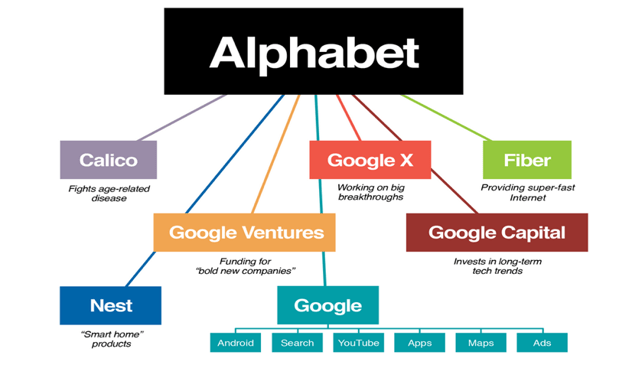 Google is a rare company; it is constantly challenging conventional management thinking. They made a radical big bet last year. They created a new holding company called Alphabet. They took away the safety umbrella of being inside Google's more mature business where search and advertising on Google Maps, YouTube, Chrome and Android were the massive revenue and profit powerhouses and created the "other bets" division, clear separate entities that have the chance to become their next big moonshots.
The majority of these moonshots are "pre-revenue" meaning they are cash absorbers, not generators, so these were separated out to be give them potentially greater freedom to grow and not be caught up in the internal needs of the core businesses equal needs to grow.
They decided that Google's more mature business is driven by scale, efficiency and rapid incremental improvements; rapidly integrating acquisitions to enhance the core business. The other bets are more "Alpha-bets" - projects that have perhaps lower levels of probability of success but also the potential of very significant upsides if they become successful, requiring a very different managerial focus.
This distinction has perhaps brought strategic ambidexterity to life, in a highly visible public way
We are watching a company's ability to explore new practices, products, and business models while exploiting existing ones at the same time—a capability which is both remarkably valuable and equally hard in practice and is again, pushing management boundaries.
In forming this new holding company Alphabet, Google have decided to separate out and determine the right approach to strategy and execution for each part of the business—and the approaches will be determined at each unit or divisional level as circumstances change or each business evolves in pursuit of its moonshots.
Hard nose reality is pitted against big cash bets that might not payoff
Yet what has been emerging recently, only nine months into this change, is that an increasing level of fiscal discipline has descended on these "other bets" divisions, who have had to totally lean on Google for financing them. Being "unmasked", they are cut increasingly loose from Google cash cow, of search and advertising, the core profit earner and these new bets that need to become even more entrepreneurial, the growing validating and showing distinct progress for constant injections of new funds will be highly charged, as Google is presently the only resource of funds and it has now separated operating management determined to grow its own business core.
Google's core is not slowing down the development of their own moonshots that might actually compete with those in the "other bets" division, and as Google generates the money, this will be a difficult balancing act at the holding company level. Google is pushing for more investment in machine learning, cloud computing, virtual reality platforms, AI, and other breaking technologies.
Investments and decisions will be aiming for the same pot of gold, such as Google's core need to continually invest in integrating acquisitions, advance in exploiting technology, and explore new potential.
Growing tension points
The present high tension point is balancing speculative research with 'reasonable' limits on spending, no different from any other organisation balancing exploiting and exploring. But when you are seek those defining "moonshots" that must scale, expectations rise and pressures mount as well as managing the calibre within the personalities charged with making their part work in building new company powerhouses as the hyper growth opportunities expected is a huge call and set of pressures.
The balance of providing continuous high levels of funding to explore is hitting the reality of asking the core to fund them. Presently while the Alphabet "other bet" companies sink only 5 percent of Google search business sales, investors can be patient but those bets will quickly need to show signs they will pay for themselves.
Summary - a dual management approach
The argument goes and it might surprise you, by supporting core businesses and new emerging innovation units requires leadership to constantly evolve, they must totally live the dual agenda otherwise, it fails. This is why it is incredibly hard to operate in this dual thinking mode, it raises the risks but if it achieves a higher result, it can be significantly rewarding.
When leaders do take this ambidextrous approach, they are forcing change; they are highly focused on forward-looking debates regarding the tensions in the heart of the business. Balancing exploiting with exploring is managing often opposing tensions to see how these successfully managed objectives will determine eventual success.
They are extracting all the opposing objectives, in needs and constraints, to then set about to fuse them together, sometimes in unconventional ways, to deliver a combined business that performs at higher levels of success. The difficulty lies in how this is determined, structured and the resolution process of the tensions that this causes are effectively managed. It raises the stakes to extract the reward.
Related Posts...
Subscribe to the HYPE Innovation Blog
Subscribe to the HYPE Innovation Blog