This is the fourth blog post in HYPE's series on the most-often-asked questions about strategic foresight. While the second post provided guidance, practical tips, and examples on how to get started with brainstorming the future of your market, this post offers insight on where and how to identify industry trends to support brainstorming and other foresight activities.


Trends are the essential ingredient for foresight – for the anticipation and planning for the future. Noted futurist Amy Webb, professor of strategic foresight at NYU Stern School of Business and author of "The Signals Are Talking," defines a trend as "a significant development that is heading in a particular direction and leading to other changes in technology, business, government, society, and other realms of our lives."
"Trends are the essential ingredient for foresight – for the anticipation and planning for the future."
Trends don't appear out of thin air: what may first seem like a series of unrelated events or unconnectable dots at the edge may later materialize as a trend in the mainstream. Our basic human needs drive the emergence and evolution of trends, often catalysed by technology.
Identification of trends and forecasting of the future have an obvious advantage: the earlier that organizations can see trends, the better prepared they are to take advantage of them. For example, companies in the milk industry that identified changes in consumer behavior early on, ultimately causing a significant shift in demand from cow's milk to plant-based milks, might have been better equipped for the future than e.g., the largest dairy producer in the U.S. that filed for bankruptcy late last year.
5 myths about spotting industry trends

To avoid such developments going unnoticed, how are market trends then identified? Before diving deeper into that, there are certain prevailing myths about trend scouting that innovation and marketing expert Rohit Bhargava has excellently busted:
Myth #1: Trends are spotted
Ingredients for trends can be spotted and then curated to trends. It's the curation – connecting the dots, naming the trends, etc., – that brings meaning to the trends. Meaning also arises when trends are interpreted: what do they mean for our customers, customers' customers, our suppliers, our partners, our business, to name a few angles.
Myth #2: Trends are predicted by industry experts
Trend curators do not possess any expertise that the rest of us would not be able to develop. Rather, trend curators are curious, thoughtful and mindful of the biases they might bring to forecasting the future; they observe and find ways to describe ideas that connect the dots in an understandable plausible way.
Myth #3: Trends are based on 'hard' data
Research done with both quantitative and qualitative methods is necessary for curating trends. In addition, as Bhargava reminds us, "we need also the ability to remember that research data can often be less valuable than excellent observation."
Myth #4: Trends only last for a short time
Great trends elaborate on a development as it is happening, far beyond a fad or something that is merely trendy
Myth #5: Trends are hopelessly broad predictions
Good trends define something concrete and distinct without being limiting
2 guiding principles for trend identification
There are two guiding principles for identifying market trends, phenomena, and uncertainties: 1) adapt a wide enough lens, and 2) go beyond the strong signals.
The first principle encourages us to look beyond the changes in a company's immediate playing field, industry, and role in the value chain. Often, defining what "future of" you want to learn about and why it is helpful. "The future of" will be your guide to identifying the breadth of trends and the like. Your business, customers, customers' customers, suppliers, and partners are the viewpoints through which to bring depth into foresight.
The second principle challenges us to pay attention to the fringes – to the weak signals and wild cards in addition to the trends and megatrends. Often, foresight focuses too narrowly on strong signals – to the knowns, such as trends and megatrends – and their implications, which seldom offer privileged insight for strategy, people, organization, and business model development.
How to identify trends
There are different methods to use depending on whether you're looking for curated descriptions of trends or spotting ingredients for trends.
Looking at available trend descriptions and projections
For someone just getting started with foresight, there are plenty of tools available for trend identification and analysis, such as the Future Scan by Board of Innovation or more dynamic solutions, such as HYPE's trend-scouting component. These platforms contain thousands of trends – from mega to micro trends – and their description. More and more, we also see ready-made interpretations of different trends and phenomena in the form of scenarios.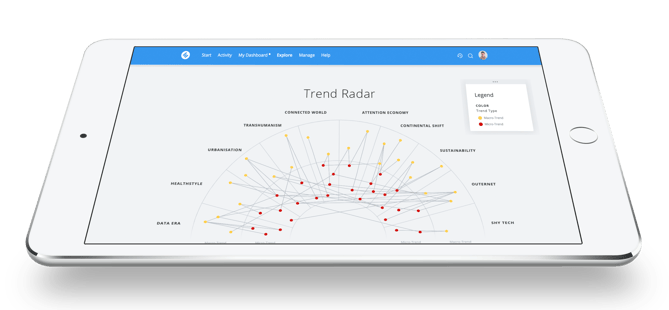 Above: HYPE's Trend Radar
Based on an increasing amount of data available, different and even far-reaching projections about the economy, population, and so on have become available. For example, the United Nations projects the world's population, and the organization's latest estimates project out to 2100.
Talking to and observing the representatives of the future
As the old saying goes, "the future is already here. It's just not evenly distributed yet." Similar to diffusion of innovation, one can always find a group of people who are ahead of others. Representatives of the future can be scientists, artists, and technologists – researchers and thinkers from different fields – who are testing early hypotheses and undertaking original research. For example, a few years back, researching solutions to transform CO2 to food might have sounded ridiculous; today, a startup called Solar Food is planning to begin commercial production next year.

Subscribing to newsletters from universities, following researchers on social media, and attending conferences all provide opportunities to spot elements of what might later become a trend. Also, qualitative research methods – interviews, observations, etc., – are fruitful for gathering information from the representatives of the future. Representatives of the future can also be the customers, partners, or suppliers. For example, Sulapac, a Helsinki-based scale-up, is partnering with multi-billion- euro companies in replacing plastic packaging with biodegradable alternatives.
Understanding technology development
Different sources of data are available to make projections about technology development. For the early stages of R&D, the science citation index is a source of data to investigate for emerging technologies. Patent databases and patent analysis help in understanding how technology develops when technologies are commercially introduced and in operational use.

Finally, in-depth articles from newspapers, as well as business and popular press outlets, are sources to understand technology's adoption and societal impact. Recently, The New York Times published an extensive opinion piece on cell phone technology's societal impact from the point of view of location data and privacy, informing readers about how our data might get abused.
Overall, there are ten main types of forces that shape trends, according to Amy Webb's book, "The Signals Are Talking." These forces include wealth distribution, education, government, politics, public health, demography, economy, environment, journalism, and media. As mentioned above, trends evolve, and to track and even shape their development is to track and influence these ten forces.
Get out of the building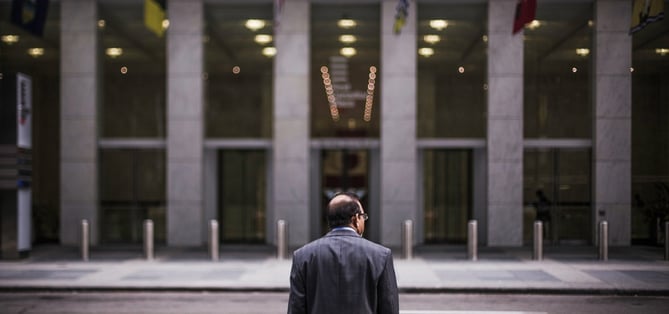 For most organizations, the future is not happening in a safe space at headquarters. Identifying market trends requires exposure to the world and putting people in a position where running into the representatives of the future can occur naturally. Organizations can only realize the advantages of foresight when they exercise foresight continuously. rends emerge, evolve, and fade: are you keeping track?

--
For software support, check out HYPE Strategy - Discover the gaps in your strategy and identify the trends, technologies, and organizations that can fill them.
Subscribe to the HYPE Innovation Blog
Subscribe to the HYPE Innovation Blog