Gijs van Wulfen has created a wonderful innovation method, the Forth Innovation Methodology, to provide a systematic way to take ideas into tested business case concepts. Using a highly visual approach he takes the notion of "the Innovation Expedition", as a way to think about the path along which ideas travel, from discovery, to business case concept, to finally emerging as winning ideas in the marketplace.
The Innovation Expedition provides this structured pathway for innovation, which produces far better results according to validation and indepenent research of the method. Let's start with the key strengths of the process:

Firstly, we should ask ourselves, are all our great ideas thought through in a systematic way? Can we improve on the process? Gijs provides a method that takes twenty weeks to be immersed into, it is made up of different innovation sprints using his wonderfully descriptive visual model of the journey he believes we all need to take.
Gijs is a fan of famous explorations mankind have undertaken, be these Columbus and his discovery of the America's, Edmund Hilary and how he became the first to reach the summit of Everest, or how Neil Armstrong got to be the first man on the Moon, or the pioneering journey of Ernst Shackleton, the polar explorer who led three British expeditions to the Antarctic. All of these expeditions required inspirational but structured thinking.
So Gijs's methodology draws from this concept of 'Expeditions' because innovation goes through a significant journey. His task is to equip you for this often hazardous journey.
Within his first book "the Innovation Expedition" he lays out his thinking on a highly original format, providing a visual toolkit for a successful start to innovation. The book is highly practical and constantly weaves between historic voyages of discovery and how we need to think about innovation. Innovation takes time, it is full of risks and there will be unexpected setbacks. Gijs provides a practical and visual toolkit for you to go on this 'hands-on' voyage of innovation discovery.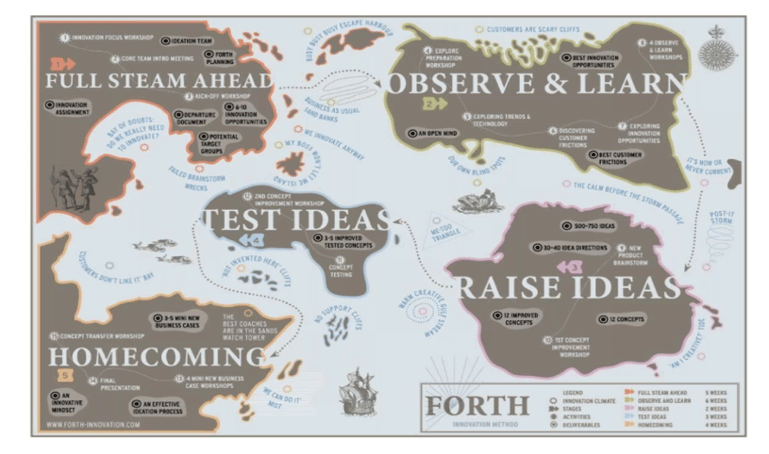 Drawings are from Gijs's web site http://www.forth-innovation.com/method/
The whole journey is formed around a series of workshops that take you through the five steps of that initial idea to 'forming' concepts.
The innovation methodology is called FORTH
Forth is an acronym found in the first letter of each of the 5 steps: Full Steam Ahead, Observe & Learn, Raise Ideas, Test Ideas and Homecoming. The FORTH innovation methodology structures the chaotic start of innovation, creates 3-5 mini new business cases and fosters a culture for innovation in an expedition of 20 weeks. The deliverables of this innovation expedition are 3-5 mini new business cases for innovative concepts, which fit the 'in the box' reality of your organization.
We all recognize that many organizations are struggling with innovation. They often do not know how to start it effectively. The FORTH methodology is designed to help as many organizations as possible to jumpstart their innovation process and that FORTH becomes a regularly used method for ideation.
It is a method purely at the start of your innovation journey. It 'stops' at the point where you have 3- 5 tested concepts ready to enter your established innovation pipeline for full development and commercialisation.
Let's break the journey of creative discovery down into its five steps
In each of the 5 step visuals you have the clarity of what each step contains, its outcomes, its planning and time commitment and the deliverables from each of these steps. I will not repeat these as they are clearly stated on the different maps but I'll offer some points.
Full Steam Ahead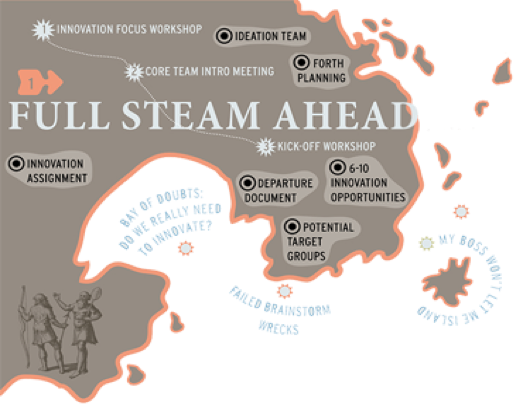 Gijs points out that you should never start a professional expedition unprepared. Good preparation not only increases the chances of success, but also creates priorities and the will to succeed. That is why this first step in creating new concepts is so terribly important. Full Steam Ahead illustrates how you can challenge management to start a real innovation project and how you formulate an innovation assignment during the innovation focus workshop. It also shows how you can put together the correct ideation team with internal and external participants. All this lasts about five weeks and is the first step of the ideation phase. Its intent is to bring everyone on board, including your steering committee, board members, to focus on "what you need to bring back".
Observe & learn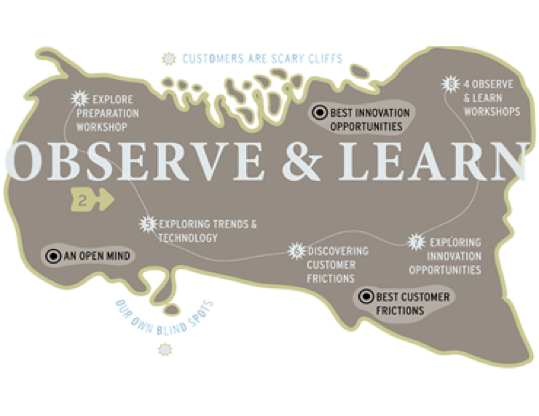 An essential part of being innovative is to start viewing things differently. You have to detach yourself from your own existing thought patterns and habits. This part of the journey becomes the essential one to open your minds, to be ready to discover new possibilities. So, you need to gain new and refreshing insights. That is why this second step in creating new concepts is extremely important. Observe & learn illustrates how you can explore innovation opportunities, trends and technology and how you can discover customer frictions among the target groups. It also shows how you can share your findings among the ideation team in an inspiring way. The entire process takes about six weeks and is the second step of the ideation phase and involves four workshops. The learning begins on how to discover those highly relevant and valuable customer friction points that can potentially translate into value end products.
Raise ideas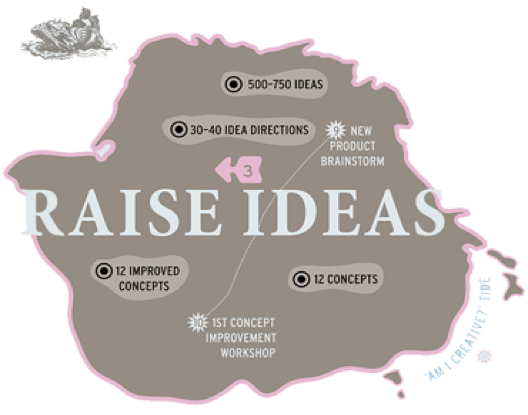 This step is the pièce de résistance in Gijs's belief. It consists of a two-day new product brainstorming session and a concept improvement workshop. The brainstorming session is where the new ideas are prepared and developed into a concept. These concepts for new products, services or business models are further developed during the concept development workshop. The innovation opportunities, the discovered customer frictions, the involvement of outsiders and an effective creative process are all part of the third step. It is the creative peak of the expedition. Raising ideas takes just two weeks and is the third step of the ideation phase. Out of this you would expect, as a typical output, 500 to 700 idea directions, resulting in rapidly bringing these down to 12 improving concepts and 12 brand new concepts as an expected deliverable.
Test ideas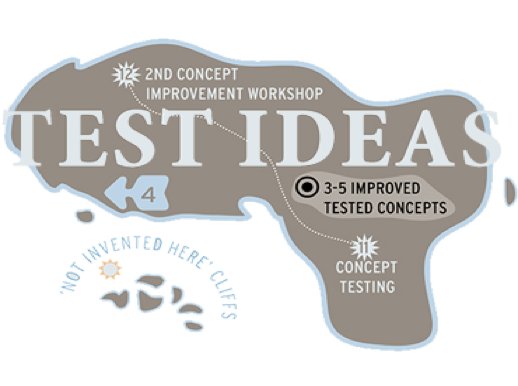 How attractive are the new concepts and how many truly stand out? Here you reflect on this together with customers and improve the concepts based on their feedback. At the end of this phase the innovation team will select the best 3-5 new concepts to be worked out as a mini new business. Test Ideas takes three weeks and is the fourth step of the ideation phase.
Reminder: Again, within each map lies the structure of the step and the expected output.
Homecoming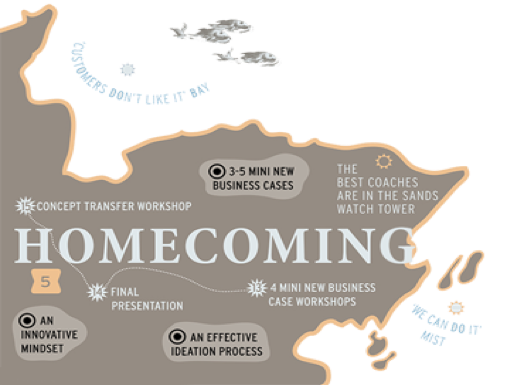 In the final step, the FORTH expedition returns home with three to five attractive new product or service concepts and enough support to fill the innovation pipeline. They will be presented to top management. A decision will be made which business cases to adopt in the formal product development process to enter the pipeline for their commercial development. Homecoming is the climatic step of the 20-week expedition.
So, this methodology is over a twenty-week journey. It is highly intensive and demanding but to support you there is a range of detailed tools and techniques applicable to each of the five steps, lots of checklists, some outlined business cases and some very practical rules to help you realize new ideas.
Combined with his book this step by step pathway can significantly help you unlock the "fuzzy front-end of innovation".
The question I can hear being asked is: "twenty weeks, now that seems like a long time?"
Is it, really? With research suggesting that only one out of seven new product ideas successfully make it to market, we spend an awful lot of money, resources and energy on many that don't. By having a clear, systematic process that offers an effective way to manage the "front end of innovation" you must judge results much harder than ever.
The book "the Innovation Expedition" is such a worthwhile investment to take, read, absorb and decide if this is the missing method for you and your organization. Gijs suggests "any expedition needs to bring back" and we all need to provide that belief of "bringing back business" and that value potential alone has a return for this twenty-week training and understanding.
"The Innovation Maze": A further useful guide written by Gijs
In 2016 Gijs wrote a book on dealing with the innovation maze and suggesting four routes which need exploring; the ideation route, the technology route, the customer route and the business challenge route. See below for the book cover visual, which show the four-route maze.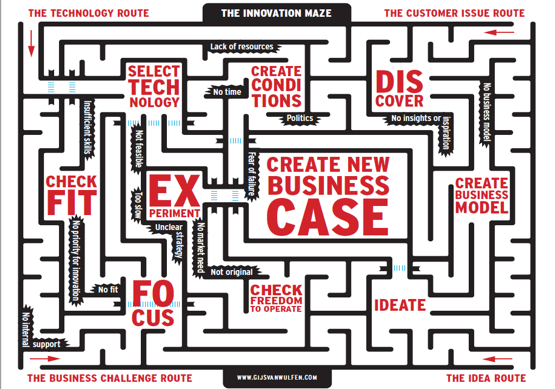 The Innovation Maze was elected Management Book of the Year 2017 in the Netherlands. It's a practical guide on HOW to navigate through innovation. It shows four clear routes from different natural innovation starting points and guides you through how to overcome the obstacles to successfully deliver new business cases for products, services and business models.
Download your four innovation routes as visuals for free:
Download here the Innovation maze itself without the 4 routes.
The book is another hands-on guide that gives clear directions on how to effectively overcome innovation obstacles and then deliver. It is written for start-ups, entrepreneurs, managers, consultants and those looking for practical real-life advice to successfully get through this innovation maze. We all get stuck and this helps you navigate even further your innovation journey. It compliments his FORTH methodology and his opening book "the Innovation Expedition"
Resources related to the Forth Method and Gijs van Wulfen
A good webinar from Gijs introducing his method:
http://the-moon-on-a-stick.com/Forth-Innovation%20-Gijs-Van-Wulfen.mp4
Then the relevant resource references, offering different downloads:
http://www.forth-innovation.com/free-downloads/
http://www.forth-innovation.com/training/
http://www.forth-innovation.com/book/
http://www.gijsvanwulfen.com/blog/
http://www.gijsvanwulfen.com/books/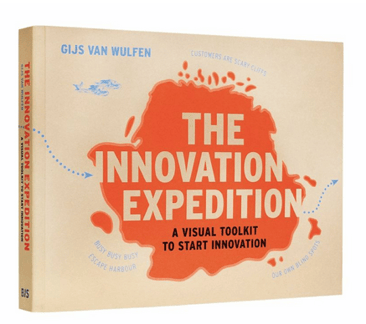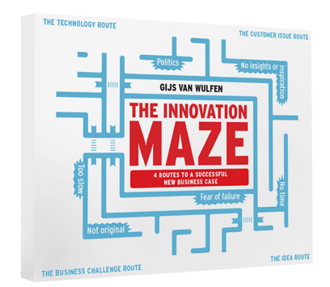 Subscribe to the HYPE Innovation Blog
Subscribe to the HYPE Innovation Blog