Idea management is certainly not a new phenomenon. Most organizations consider it at a point and many run very successful idea management programs. The challenge with idea management is that the term actually comprises different activities and is sometimes confused with adjacent terms. Also, it's easy to kick off a single idea campaign, but something entirely else to establish a strategically relevant idea management program for the long term. So let's look at the scope and components of successful idea management programs to shed some light on the topic.


What is idea management?
The term "idea management" refers to the systematic and structured collection, processing, and implementation of ideas within the domains of innovation and efficiency programs.
And this is about where the commonalities end. When you look at the details of idea management programs, you can find vastly different approaches, addressing different participants in different ways and with different goals in mind. Just to give an example, let's look at two randomly picked types: Classic employee suggestion schemes and open innovation programs engaging key suppliers for ideas. Merck, the pharma company, has an old employee contract dating back to 1853, proving a monetary payout for their idea (find out more about idea management at Merck here). Today, the program saves the company €7,5 million in one year alone, and only in Germany, based on cost-saving ideas. AkzoNobel, on the other hand, invited their value chain partners to collaboratively create a paradigm shift in the industry and meet their challenging carbon footprint reduction ambitions (learn more about their "paint the future" challenge here). Both cases tell a story of successful idea management.
Next to the different approaches and individual setups of idea management, there is also a range of competing or adjacent terms for idea management. Let's look at some of those and tell them apart for the sake of clarity.
What is the difference between idea management and innovation management?
Idea management is one domain of innovation management. In other words, innovation management in general, and more specifically collaborative innovation management, are superordinate terms of idea management. Other components of the innovation ecosystem of organizations are technology and trend scouting, strategic foresight and roadmapping, innovation partnering, and innovation portfolio management.
However, there are many organizations in which idea management is the only form of systematic and structured innovation management. In these organizations, the terms idea management and innovation management are often used interchangeably, adding to the general confusion about the term innovation. Also, the managers in charge of these programs are often called innovation managers.


What is the difference between idea management and ideation?
In the context of collaborative innovation management, these two terms often mean the same thing. In other contexts, "ideation" usually only refers to the creative process of coming up with an idea. However, the innovation community has largely increased the scope of the definition to also include the formal process steps that come after the initial idea. Check out Viima's guide to ideation and you'll see the high degree of similarity.


Why is idea management important?
For many organizations, idea management is the first step toward structured innovation management. The reason seems to be that the key concept is easy to understand: You have a business challenge and you look for ideas to overcome it. Also, idea management offers secondary benefits: Once established and supported by software, it's a means to reach out to employees and an opportunity to engage them in two-way communication. A successful idea management program helps shape the image of the company in the mind of the employee in a positive way. Some contribute and see a direct impact on the success of the company, others may only see the results - but all of them see change. Read more about planned change management in this article by Oana-Maria Pop.
Idea Management is a great means to bring about cultural change — towards a culture of active participation and entrepreneurial spirit.
Another reason why idea management is important is its high degree of flexibility. It's like a swiss army knife for the business challenge at hand - you'll always find a tool to get the challenge solved. You can address all three horizons of your growth strategy (here is an overview of the three horizons model) and you can run cost-saving campaigns in times of economical crisis. However, while the general concept is fairly easy to understand, it's still a challenge to set up idea management successfully for the long run. There are several key components you have to get right. And a few typical pitfalls you should avoid. Some classics are listed in this article on which 3 mistakes to avoid when asking for ideas.


Key components of idea management
To set up an idea management program successfully for the long run, you have to consider three central components: Alignment, people, and process. These three must be considered under all circumstances, whether your innovation program is addressing few or many people. As you address more and more people and address different topics with different audiences at the same time, technology, in the form of dedicated innovation management platforms, becomes a necessary fourth component for success. Let's look at the components in greater detail.
Alignment
The one necessary ingredient to make sure your idea management program is here to stay is strategic alignment. It's fairly simple: If your program doesn't address the topics that are of strategic importance to the success of the company, it's mostly an "innovation marketing vehicle," an argument used by top managers to "prove" they are supporting innovation. These programs die quickly, especially in the face of a crisis. However, if your program is able to address actual challenges and goals, chances are high that you get the credit you deserve. When you are just starting out, you don't have to shoot for the moon. Some innovation managers started small, built trust, and expanded over time.
Case in point: Roel de Vries, who originally created Liberty Global's "Spark" program. When he started at LGI, he saw the lack of alignment as the main issue to solve. However, he did not have access to senior management attention at the point. So he dove into annual reports and public strategy docs and formulated an innovation strategy. He addressed current operational challenges and built the trust he needed over time. He still passes on this guidance today:
"When just starting with idea management, I'd focus on improving current operations instead of fancy radical innovations. That's because you often need to prove your value as a starting innovation team that is possible by taking an idea completely into implementation and value creation. That'll probably take you years with radical ideas which would thus not convince scepticists on short term."

Roel de Vries, founder of Riverstone Blue and former innovation manager at Liberty Global
People
The crucial component when talking about ideation or idea management. Technology, in terms of AI and dedicated databases, today offers fantastic opportunities to discover trends, technologies, companies, patents, etc. But this is still a far cry from the human brain's creativity and ability to connect and recombine existing patterns and solutions to new things.
In other words: In the foreseeable future, we'll still be depending mostly on people when it comes to finding great ideas. And people require proper attention if you want your idea management program to be a success.
As with any people-facing trade, communication is everything. But to communicate effectively, you must first understand your audience. You will have to communicate differently, depending on whether you run an idea campaign to your R&D team, the marketing team, all employees, or even the public. In any case, you'll have to answer the classic questions:
What are you trying to accomplish (the goal)
Why are you trying to accomplish it (why should anyone bother)
How are you going to go about it (the process)
And you'll have to answer these questions for your innovation program in general as well as for each idea campaign in particular.
However, you'll also have to consider the general company culture of your organization. Are people, generally speaking, already excited about participating in innovation activities? Or is this new to them, potentially a change in everyday work they see skeptically? Does your organization have a history of failed innovation programs? How do people prefer to be contacted? What style of communication is most likely going to resonate with them? Which tone of voice?
Let's look at Swisslog, back in 2011, to illustrate the point. At that time, Mike Hatrick, an experienced innovator from the Aerospace industry, was appointed as innovation manager. After some initial small-scale enthusiasm, participation seemed to drift and overall engagement dropped. Mike had run a range of successful idea campaigns at his previous company, so what was different here? Quite simply, the overall culture was just more skeptical, and for a range of reasons, such as: Lack of transparency on the idea process, the failure of management sponsors to engage them, and campaign topics that were too challenging.
Mike Hatrick managed to turn things around by analyzing the "shape" of the company's innovation culture and taking action to address the reasons for the employees' overall skepticism.
This is a "standard" shape you may find in many companies three months after launching the new program: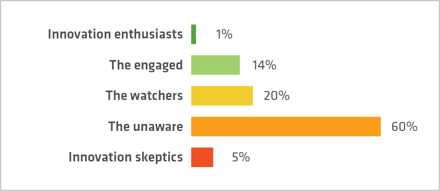 This is the shape that Mike discovered at Swisslog after his initial set of idea campaigns: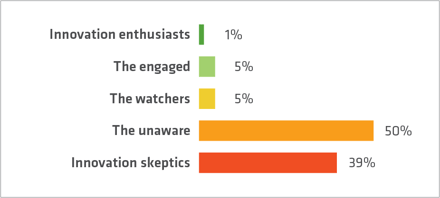 This is the shape at Swisslog after the re-launch: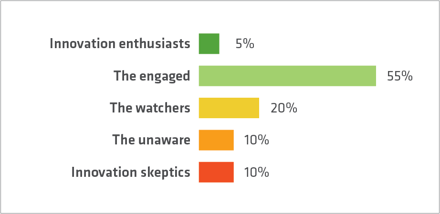 The effect of managing communications right and dealing with the human aspect of idea management properly is quite dramatic, as you can see. A bonus side effect of doing communications right: It's a great opportunity to shift the company culture toward collaborative participation. And that's what many managers of the C-suite would like to see, right? If you'd like to read the whole Swisslog story, you can download the case study here: Swisslog Case Study.
Process
The third component is the idea management process. As we've seen above, expectation management is key if you want to get people engaged in your idea management program. Consequentially, your process must be created transparently. What status is an idea in? Who is responsible?
Idea management processes can differ from organization to organization. However, the bigger phases of the process are usually very similar. Let's look at a "standard" idea management process.
What does the idea management process look like?
An idea management process typically consists of the following phases:
Idea submission — In this phase, contributors work on their ideas, individually or as teams, add relevant information, such as examples, experts, evidence, and calculations, and submit the idea to the innovation team.
Community discussion — In this phase, contributors will take a look at the other ideas and provide feedback. Often, there is also a voting option, whether star or "like"-based. The community activity helps to mature ideas and enrich them with additional information.
Evaluation — During the evaluation phase, a team of reviewers, whether subject matter experts or the innovation team, will evaluate the submissions based on the defined criteria. Evaluation methods as well as criteria often vary from organization to organization and even from idea campaign to idea campaign. BTW, here are 3 tests all ideas must pass.
Selection — Finally, a selection of the ideas that provide a solution to the challenge at hand must be made. Again, you may see different methods of making that final selection. Sometimes you have one "winning" idea, sometime all relevant solutions will be moved into the conception and realization phase.
However, this process is neither the start nor the end of idea management. Random idea submission is still practiced in some organizations. However, in an efficient and effective idea management program, ideas have direction and are realized as tangible value. In terms of direction, idea campaigns - in various types and forms - and channels are the tools of choice. But what's the difference anyway?


What is an idea campaign or idea challenge?
Idea campaigns are time-bounded, collaborative approaches to topic-focused idea collection. More simply: Idea campaigns help you to find the right ideas at the right time. Some organizations call them idea challenges, but it's the same thing. An idea campaign typically runs between 2 and 4 weeks, during which repeated updates and reminders drive the selected audience to submit and collaborate on ideas. Benefit: Strategic topics change over time and limited submission time creates a sense of urgency leading to more submissions. Read more on how to generate ideas with campaigns in this blog article.
Idea campaigns come in different flavors and with different purposes:
Types of idea campaigns
Creative - Diverse opinions collaborating to develop something that doesn't yet exist, e.g., a new service, product, or strategic relationship. A special sub-type of the creative idea campaign is the "hackathon." Originally referring to a creative collaborative software coding event, today the term is widely applied to very short-running, collaborative, creative idea campaigns in general. Check out "#TousContreCorona" as an example.

Problem Solving - Using collective insight and diverse opinions to fix a known issue, e.g., an efficiency issue along an assembly line.

Discovery - Finding hidden insights, issues, and expertise from the corners of your organization or 3rd parties, such as suppliers or customers. This type of idea campaign is special in that it doesn't bring a direct benefit — instead, it helps to become aware of smoldering issues or, in a more positive light, of special expertise and underestimated talents within the company or business network.

Testing -Testing a concept or idea with those likely to be impacted by its implementation, e.g., before you implement a corporate-spanning communication policy, you might want to put it out for debate and see whether you missed something substantial in the concept.

Feedback - Gathering feedback on current activities, with the goal to refine and improve, e.g., regarding a new sales approach.


What is an idea channel?
Idea channels have a specific topic, e.g., a product or service line or a primary business function. Different from idea campaigns, idea channels are always open for submission. A channel manager — or designated "caretakers" — are responsible for managing incoming submissions through to implementation. Benefit: Employees do not have to wait for an occasion or search for a process, they can submit relevant ideas when they have them.

How do you generate value from your idea management program?
You generate value from your idea management program by implementing ideas. That seems like an obvious truth. But in fact, organizations often struggle with it. The reasons can be manyfold. When launching an idea management program, inexperienced managers may focus too much on engagement and idea submission. Sometimes, the number of submitted ideas is even considered a KPI for the initial success.
While engagement levels are certainly important to watch (see the Swisslog example above), the key to success is the realization of value for the strategic goals of the organization. That's it. Is it better to have 5 or 500 ideas? It only depends on the value realized from the ideas. This fact has some consequences:
Develop your program from back to front. What does success mean for you? For your boss? Who is responsible for realizing ideas? What does the realization process look like and which preconditions will ideas have to meet to fit into this process? Who owns the necessary budget?
Be transparent about the value creation. From the beginning (of a campaign or for channels in general), it must be clear for all stakeholders and participants what is going to happen to ideas that have been "selected." How, in terms of process, is value being generated?
Create a validation process. Don't stop your process at "selecting" ideas. Make sure you have a clear validation process defined. Your process might include agile, iterative phases or a more rigorous phase-gate process. This is where your stakeholders create business cases and predict the financial (or other) impact of ideas.
Define the implementation handover. Depending on the nature of the ideas you are dealing with, the implementation handover comes earlier or later in the process. Efficiency improvements can be quite easy to implement, or at least it's fairly clear what has to happen. This may even happen directly after the selection of an idea. Product ideas may have to be handed over to product management teams and project management software platforms. Innovation ideas for future markets, services, or business relations may be much harder to predict and involve much more planning and different stakeholders. In these cases, often detailed business plans are required. And especially in these cases, it's even more important to know responsibilities and the path forward early on.
Why do you need innovation platforms?
Innovation platforms are needed for scale and efficiency. All the aspects mentioned above can be dealt with in a physical world, face-to-face — if you only involve a defined, small group of people. If you want to involve your entire organization, and beyond that partners, suppliers, and customers, you need dedicated software. Some companies try to get started on the basis of enterprise social software, such as SharePoint and HLC Connections (the former IBM Connections). And while linking your innovation platform to those does sometimes make sense for better visibility, the networks themselves don't give you the much-needed specialized features for engagement and reporting. And, as with any build-vs-buy decision, you will have to answer questions like "who is responsible for maintenance" and "how will we compensate for the lack of continuous development of new features and functions."
Beyond scale and efficiency, your innovation platform can also become the "home" of your program. Participants will over time associate it with the continued change towards a culture of collaborative innovation and participation. Similar to the website of a company, it becomes the "virtual business card" of your innovation program. This helps with positioning, internal branding, and turning your program into an institution for the long run.
The market for innovation platforms and tools is vast. You find smaller vendors with specialized tools for a specific scenario as well as holistic vendors addressing the entire innovation ecosystem. Another differentiator is whether they focus their offer on software, consulting (coming with a simple tool on top), or solutions (meaning strategic consulting AND dedicated products for specific use cases). However, over the recent years, we have also seen a market consolidation. Some of the bigger players started to acquire smaller players and specialized tools to offer a more comprehensive set of tools for the various requirements of the innovation ecosystem. HYPE, as an example, has acquired Viima among other companies, adding a quick and flexible alternative for ideation within teams and departments to its corporate-spanning platform HYPE Ideation, one component of the HYPE Enterpris Suite supporting the entire innovation ecosystem.


How can you get the best results from idea management?
After the general aspects outlined above, let's look at 10 best practices for successful idea management.


1. Make sure your idea management program is aligned with strategic priorities!
As described above, alignment with your organization's strategic priorities is key. Use your strategic goals as a starting point, formulate a definition of what "innovation" means in your organization, and set an innovation strategy aligned with your company's vision. Turn abstract strategic goals into simpler, more tangible innovation areas, and you'll see a surprising side-effect. People seem more excited about innovation than strategy formulations. As a result, even a newly started innovation program might celebrate an early success simply by getting employees "on board" with the broader strategy.
Learn more about alignment in this blog article.


2. Get management support!
Innovation programs, whether focused on idea management or other flavors of innovation, die quickly in the face of crisis if they don't have management support. For long-term success, your program must be considered an asset of strategic value to the company. Beyond top management, you also need middle management to be on board. After all, you need them as sponsors for some idea campaigns, and you certainly need the help of experts to evaluate ideas - and that means their line managers need to give them time to fulfill this role. And once ideas have been selected for implementation, you need them again: If they don't take responsibility for the implementation, the ideas may end up in some archive, never to see the light of day again.
Learn more about management support in this blog article.


3. Get sponsors for your program!
To generate impact (and not just ideas) you need sponsors. Sponsors must have the power and budget to implement ideas and concepts. Having such a sponsor builds trust in your idea management program's process and impact, which helps get ideas submitted in the first place. And obviously, they eventually deliver the results of your efforts. When trying to get a sponsor, begin with the end in mind and explain what you'll do with the ideas. Also, settle on a budget upfront for the selected concepts. Once you select an idea or concept for realization, ensure there's a straightforward handover of ownership.
Learn more about sponsorship in this blog article.


4. Use targeted idea campaigns!
Above, we established that idea campaigns are an excellent tool for collecting the right ideas at the right time. Targeted campaigns call for ideas that answer a specific need. Through idea campaigns, you provide insightful background information to guide the crowd towards the submissions you are looking for. The time limit on idea campaigns also stimulates the crowd; many people are deadline-driven, and knowing they might be too late will encourage them to submit their ideas.
Long-term engagement comes from relevant, as well as varied, campaign topics over time. Variation also gives you the opportunity to involve different parts of the organization, connecting different people and providing solutions to different departments. However, it's key to always be specific and realistic in your requests.
Learn more about targeted idea campaigns in this blog article.


5. Use seed ideas!
This aspect is connected to idea campaigns but significant enough to mention explicitly. When you ask for innovative ideas, you ask people to be creative and come up with something entirely different from what they do in their daily job. That is not an easy task! Prior conditioning can prevent your audience from engaging and sharing ideas. Seeding, however, is an excellent solution for overcoming this challenge.
"Seeding," or "seed ideas," refers to posting creative, radical, and different ideas to your campaign topic BEFORE the official idea submission phase. They help to stimulate alternative perspectives while giving a clear frame of reference of what types of ideas you are looking for and which solutions your experts have already considered.
Learn more about seed ideas in this blog article.


6. Build a network of innovation advocates!
When you build an innovation program involving many people in many different locations, you need local representatives of your program. You cannot be everywhere, after all. Innovation advocates are people who are intrinsically enthusiastic about your program in general or the specific cause of a targeted campaign. Sometimes you may know these people because they were involved in similar activities before. Sometimes you can identify them over time, e.g., by their far above average number of contributions on your innovation platform. This network will become your local eyes and ears and help with local questions and challenges. Try and find an advocate per department per location.
Learn more about innovation advocates in this blog article.


7. Communicate about your program relentlessly!
"Communication is everything" is probably the number one advice idea managers give to one another. Activities from innovation management programs are often added on top of people's day jobs, and although your innovation program is the number one priority for you, it's not top-of-mind for everyone else. Your audience will forget about you and your program if you stop communicating. For long-term success, you need a) a communication plan, and b) the right attitude. Don't underestimate b)! It makes a significant difference to the success of an idea management program whether the team proactively addresses the audiences and top management, ever looking for a stage to perform, always on the hunt for new allies throughout the organization and beyond — or not. Your communication plan should include: Huge campaigns (reaching out far and loud), consistent feedback and reviews, promotion of collaboration, reports to senior management, progress communication, and education of key stakeholders and the crowd.
Learn more about communication in this blog article.


8. Be transparent in what you do!
While building your innovation management program, you'll need to overcome skepticism. Innovators may experience the process as vague or fuzzy, and others may think it's all just a waste of time that can never result in actual benefits. You'll need to show the complete process and report on key performance indicators (KPIs) to build trust, grow sustainable sponsorship, and engage your audience. Pump manufacturer Wilo kicked off their ideation program with a guided tour in all local subsidiaries. The innovation team asked the employees to "develop" a paper plane. The innovators were taken physically through different stations, each representing a phase of the innovation process. This served both as a means of communication (with a dramaticly positive effect) and it helped to make the process tangible and transparent.
Reporting, on the other hand, will also likely come in different steps when you just start out. During the early phases of your innovation program, you may report on engagement numbers and submitted ideas. Make sure to move forward to impact numbers at a point or senior management will quickly lose interest. This is much easier for cost-saving campaigns than for highly creative or radical ideas. But even if it's hard to tell the exact financial impact of a new product idea, you can agree on a formula that helps to predict the likely impact it will have. An example is analyzing consumer purchase intent during the concept or project phase.
Learn more about communication in this blog article.


9. Plan your evaluation phase ahead!
When creating an idea campaign, start with the goal in mind and work backward: What types of ideas are desired? What evaluation method and which criteria can help decide whether ideas match this goal or not? Your evaluation process and method should be clear to both your contributors and your evaluators. Often, the evaluation team and/or Sponsor will consist of busy subject matter experts, performing the task next to their day job. Make sure requirements and deadlines are communicated early on to prevent confusion, forcing them to spend extra time to find the information they need.
Learn more about setting up the evaluation phase in this blog article.


10. Recognize and reward top contributors!
Recognition is crucial for long-term success. Recognition practices for idea contributors reach from monetary rewards to presenting your idea to an audience on stage to a dinner with the CEO — depending on the organization's culture. The type of recognition is less important than the fact recognition is taking place at all (even though there are a few things to consider regarding what motivates people most). However, be careful what you reward and recognize! In the end, your success depends on quality and business impact, not on the number of submissions your receive.
Learn more about recognition in this blog article.

Closing remarks on idea management
Idea management is not new. It's also easy to understand, in terms of the underlying principle. That's why it's often the first step towards systematic and structured innovation management. However, organizations still fail to set idea management up for the long-term (while others excel at generating long-lasting business impact). The main reasons we at HYPE see why idea management programs fail are:
Lack of strategic alignment. Sometimes, idea management initiatives are quick reactions to "prove" a company's innovativeness. In other terms: Vanity is the reason to set up the program. It's difficult to move from this to strategic relevance because senior management is usually mainly interested in the internal marketing effect. In other cases, idea management is started locally to help with local demand, but without tying the program goals to the overarching, strategic goals of the enterprise. While it's not a problem to start locally, you should always keep your milestones for growth in mind — the bigger the program, the more it becomes a core process of the business, and the less likely it is to vanish. Read the Nokia case study to learn how a small local idea management program became a business-spanning innovation ecosystem on the back of which billions of dollars in cost-saving and additional revenue are realized.
Burning out the innovation team/change of ownership. According to a study by Dr. Gina OConnor, Lally School of Management and Technology, 51% of innovation professionals quit after three years. They are not quitting the world of innovation, however, 87.5% of them start in another innovation position for another company. Jennifer Dunn, former innovation manager at CTCA, now Enterprise Innovation Consultant at HYPE, has summarized the reasons and how to overcome them in this article: Why Your Innovation Team Will Quit on You 3 Years In. This situation is not only a terrible waste of talent and resources, it also means that the program will either be canceled, since the champion is gone or it will see a new champion. New champions often want to leave their footprint and change the brand, the platform, the rules, and the team. If this circle repeats over and over, both senior management and the audience lose their trust, we see a history of innovation failure.
Well, and sometimes, innovation managers are so successful that they get promoted, but to a different area. Somebody takes over but might not show the same charisma or drive to move the program to the next step.
So, while idea management is a good start and a principle easy to understand, there is a lot to consider to turn it into a success story. But then again — there are so many great examples out there! And getting started, at a small scale, to collect some experience, is indeed not difficult! And while we didn't mention it throughout this page: It's also super exciting and a lot of fun. ;)


Suggestions for where to go next: