Let's see here: absorptive capacity, superbosses, leadership paradoxes, coping strategies, ecosystems, new school crowdsourcing, lessons from "Grit", Henry Chesbrough's work. To me, 2016 was all about sound advice, the search for meaning, and giving you inspiration for your innovation management work. To do this I've dug through academic articles, followed webinars, sat in conferences, eavesdropped on experts, summarized reports and skimmed though some great books. Oh, and I've done some research of my own too, which I'll be happy to share in a report later on.
But first thing's first...
With 2016 over, I thought I'd share a New Year's resolution - creativity audits. Yes, that's right. Why not survey your capacity to come up with "hot ice creams" (disruptive innovations) in your field? It's not quick, it's not easy, but it will help you understand where you are coming from, where you are, and especially where it is that you want to be in terms of new product, service, process and business model development. This was my impression at least, after hearing one of the most influential (and possibly best) chefs of the 21st century according to Encyclopaedia Britannica, Ferran Adrià, talk about the elBulli Foundation and the legacy of his work with molecular gastronomy.
Adrià shared his philosophy and the tale of his kitchen's creative process audit at the 3rd World Open Innovation Conference in Barcelona. Here are some take-aways from his awe-inspiring (and mouth-watering) talk.
An obsession with perpetual change
For Adrià, innovation is about perpetual change. At the same time, it is about deep reflection and auditing every single step. In his research kitchen, the chef educated elBulli's core staff to carefully store in records, drawings and documents all the successes (1,846 successful dishes, to be exact) and especially failures during the exciting 25 years of activity. elBulli would also close its gates for 6 months at a time, allowing creativity to flourish and for provoking experiments like hot grapefruit with sesame seeds or tea with clams, to happen. Upon return, the clients would find new staff, new tableware, and new ingredients. The only constant over the 25 years of transition from a French restaurant to a test kitchen was change.
But perpetual change was not (in itself) profitable. The restaurant systematically operated at a loss, albeit a loss offset by the Catalan chef's books and other self-branded merchandise. Ultimately, the elBulli restaurant was closed in 2011 and transformed it into a non-profit foundation for culinary research. Today it continues to educate, enrich and push the boundaries of gastronomy and food research.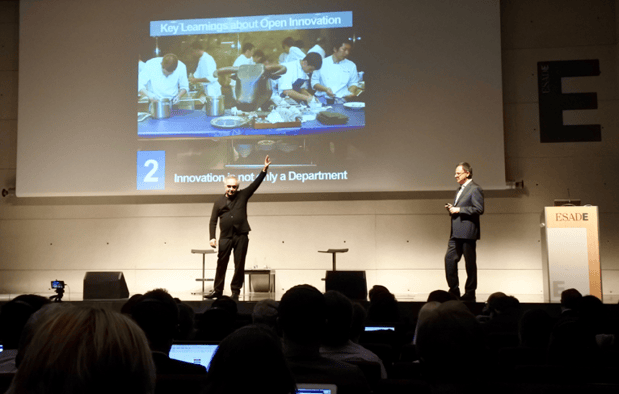 Adrià in dialogue with Marcel Planellas at the World Open Innovation Conference in Barcelona (2016).
10 lessons from the research kitchen
During his talk, Adrià collated 10 lessons from his experience with innovation and from auditing his own intricate creative process. These lessons are also incorporated in the "Auditando el proceso creativo", a multi-platform project (still under development), supported by the Telefonica Foundation. In this project, the renowned chef and his team have proposed a method to transform organizations through innovation (see also the 80 questions/ puzzles here – Spanish only), and have committed to provide teachers and schools with the necessary means to nurture the next generation of creative thinkers.
Some lessons from Adrià's work, as follows:
The closer the decision makers are, the better. During an innovation project, discussing problems with remote stakeholders only means you are not thinking about innovation, but about expectation management;
Innovation is not just the activity of one department. It is the activity of the entire organization. According to Adrià, innovation can save the world and everyone can and should be an innovator ("The people who clean the restaurants have to be innovative too");
Silos and egos kill creativity, but vanity poses the biggest threat of all ("What movie director would accept advice from a cook, or an economist?"). People accept others' creative work only if there is admiration and respect. Innovation efficiency comes with kind language;
Open creative teams are crucial for innovation. Working with teams that are not your own – i.e., designers, editors, app developers, cartoonists, can lead to surprising outcomes. For example, the collaboration between Adrià, The Walt Disney Company, Penguin Random House, Telefonica, Carrefour and others, to inspire families to live healthier lives.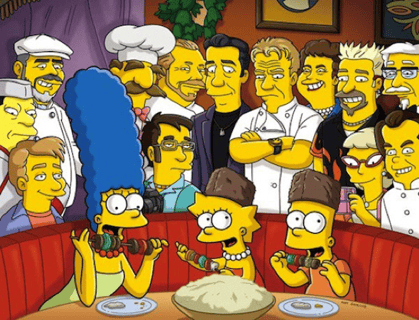 The Simpsons as food bloggers. Source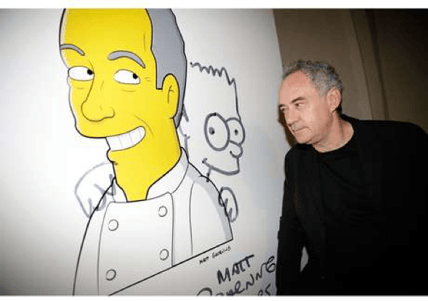 Adrià has his very own Simpson character. Source
Passion is a prerequisite for innovation. It is difficult, however, to feel passion for a project or company that is not your own. 16-hour workdays and creating 365 days a year without monetary incentives requires immense commitment. Hence, innovation must be owned.
Cross-industry/ cross-disciplinary innovation is important. In maternities, for example, like in restaurants, there is an issue of feeling welcome; there is also the issue of pressure and immediacy. Finding the commonalities can lead to unexpected solutions.
Creativity needs to be efficient. In search for new techniques, elBulli's founders and team collaborated with industrial designers to ensure that even the tableware (including utensils) matched the food that was being served in the restaurant. In 2000 elBulli hired an industrial designer; won a lucky strike award; and produced a study of how dishes and gastronomy come together.
"Creating to learn, and learning to create" can be an excellent mantra. This mantra (and an open mindset in general) can open many doors, including door to remote places such as the art world. In 2007, Adrià was invited to the "Olympics of the art world" and made a contribution to "Documenta 12".
Self-auditing and self-criticism are a must. Adrià and his team documented their 25 years of disruptive innovation efforts in over 7,000 pages and published their highlights every 5 years. This helped them revisit those solutions that "could have been but never came to fruition".
Maintaining creativity is a challenge. An organization can only reach creative resonance if every new cycle of disruption is reinforced by the outcomes of the previous one. Hence, documenting every step of the process is essential.
Continued commitment to creativity
Today, Adrià's commitment to creativity lives on. While the famous elBulli remains closed, its roots (the experience gained from the 25 years of disruption) are now watered with "knowledge, learning, comprehension" in hope of growth in new and unexpected directions. In other words, the ecosystem lives on. The former mission – to challenge traditional gastronomy and its techniques – has now been replaced with a focus on processes, efficiency and sustained innovation.
Have a Happy, Creative, No-Copy, Hot Ice-cream filled year!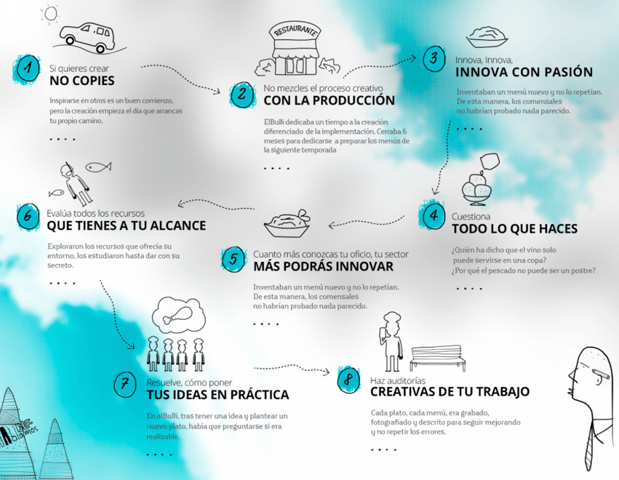 Auditing the creative process. Source: Telefonica Foundation


Further reading on elBulli's business model and the pioneering innovation work of Ferran Adrià:
"An Individual Business Model in the Making: a Chef's Quest for Creative Freedom", by Silviya Svejenova, Marcel Planellas, and Luis Vives. The paper is in-depth, longitudinal case study of the triggers, mechanisms and changes in the evolving individual business model developed by chef and gastronomic innovator Ferran Adrià. Link
"Cooking Up Change in Haute Cuisine: Ferran Adrià as an Institutional Entrepreneur", by Silviya Svejenova, Carmelo Mazza, and Marcel Planellas. The paper explores how institutional entrepreneurs initiate change through creativity, theorization, reputation, and dissemination. Link
Subscribe to the HYPE Innovation Blog
Subscribe to the HYPE Innovation Blog